Best Kombucha Flavor Ideas-Blueberry Ginger Kombucha
Last Updated on September 27, 2021 by Carolyn
Bottled Deliciousness!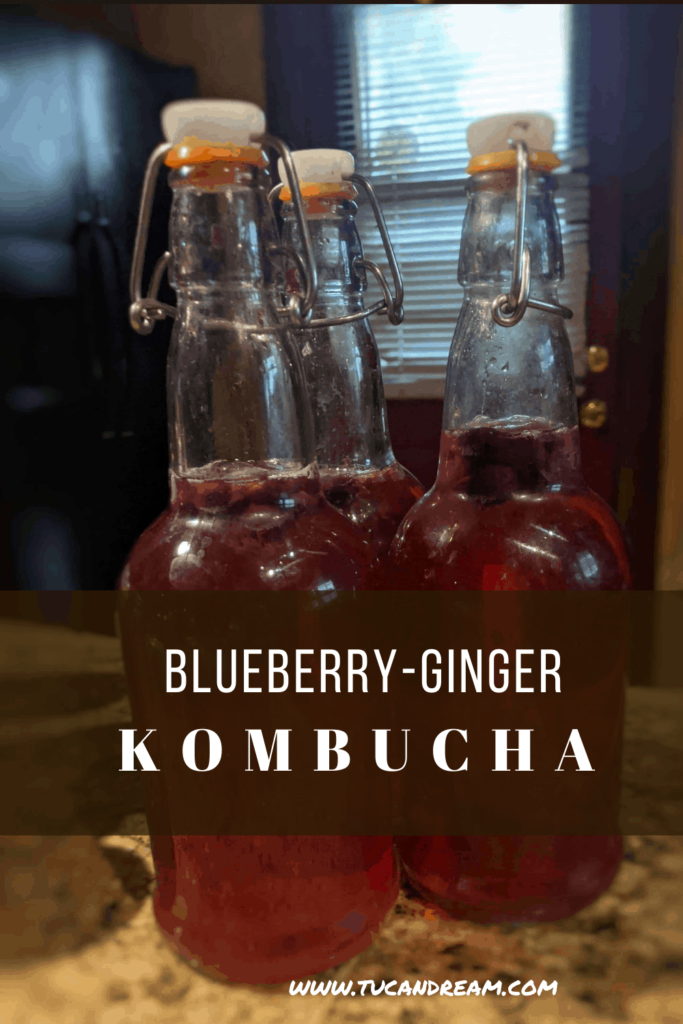 Kombucha, What is it?
Note: This post may contain affiliate links. Full disclosure here.
Before we talk about Kombucha flavor ideas, we need to discuss what is Kombucha?
A few years ago I was having dinner at a friend's house and she asked me what I'd like to drink? She said she had freshly brewed Kombucha would I like some? Truthfully, I wasn't sure and admitted as much, I'd never tried Kombucha before. Her two kids were eagerly drinking it up and asking for more, so I said "sure, I'll try it". How bad could it be if kids liked it? She poured me a glass and pushed it across the table to me. I tentatively sipped it. The flavors were interesting sweet and tart at the same time with a hint of its tea origins swimming in the background. I liked it.
Kombucha is a carbonated sweet and sour drink made from fermenting sweet tea with a SCOBY (an acronym for symbiotic culture of bacteria and yeast). Sounds rather nasty, doesn't it? Hence my trepidation in trying it. Kombucha advocates tout it as being beneficial to a plethora of health issues including lowering blood pressure and treating cancer. These claims are not supported by scientific evidence but there is some evidence that it does act as a probiotic and antioxidant and therefore does aid in digestion and can boost the immune system.
Kombucha has become quite popular amongst health-conscious, sustainable living proponents and younger consumers. It should also gain popularity amongst FIRE proponents (at least those willing to make it at home). While Kombucha can be pricey at the supermarket selling for around $3.00 a pint, home-brewed Kombucha is a super frugal drink to make and only costs pennies per gallon. Homebrewing kombucha is also very sustainable as bottles are reused many times.
The Evolution of Kombucha Flavors
It used to be you'd buy (or brew) just plain Kombucha and you still can, but in my mind, it's the variety of unique flavors that make this drink shine. There is a flavor that should appeal to everyone. Some of the most popular flavors include lemon-ginger, hibiscus, strawberry, peach and mango. Some of the more exotic flavors include coffee, orange creamsicle, and strawberry beet. My favorite Kombucha flavors so far are raspberry hibiscus, blueberry ginger, and strawberry lemonade. One Kombucha flavor idea that I thought would be great was coffee since I love everything coffee, but when I brewed that one I wasn't a fan.

What is great about Kombucha is that since the flavoring is added after the initial ferment, you can choose to make multiple flavors in each batch. No need to settle for just one flavor, variety certainly is the spice of life! I searched earlier this year for Kombucha flavor ideas and saw Blueberry Ginger, and thought whoa, I have to try that. I wasn't disappointed! This blueberry ginger kombucha recipe is definitely one of my favorite homemade kombucha flavors. The fact that you can use frozen fruit is a bonus.
How to Brew Kombucha at Home
The first thing you'll need to start brewing Kombucha at home is a SCOBY and starter tea. If your patient you can grow your own SCOBY from raw organic unpasteurized kombucha. Being the frugal sort, I bought a bottle of GT's organic kombucha at the grocery store, a 1-gallon glass beverage dispenser, and following these simple instructions grew my own SCOBY successfully. Beware it took about a month to grow. It's much easier to source a SCOBY and starter tea from a friend or failing that, you can purchase a SCOBY and starter tea online.
When you have your SCOBY and starter tea you can start brewing your own batch of homebrew Kombucha. The following infographic courtesy of KombuchaKamp is great and is what I follow to brew my own kombucha.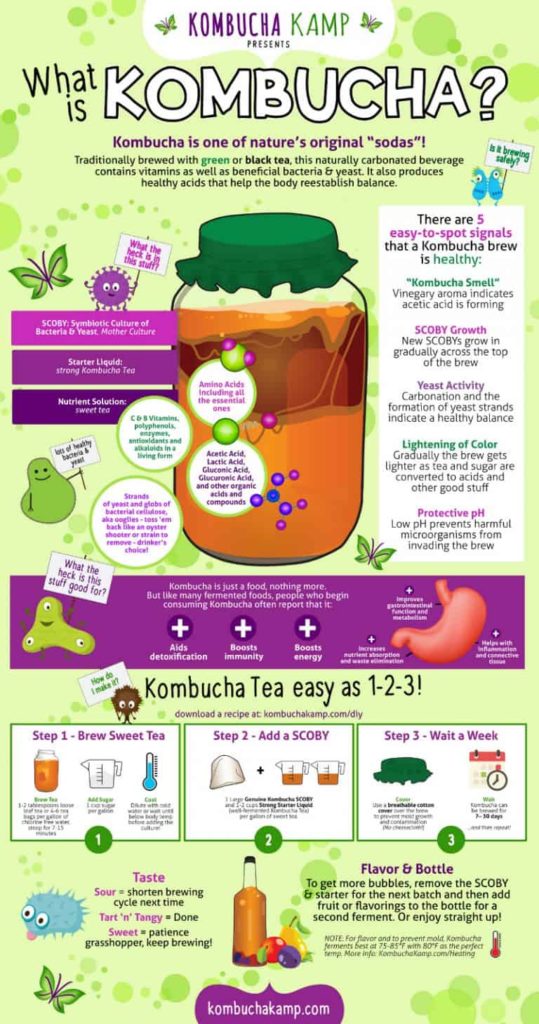 Plain Kombucha to Blueberry-Ginger Kombucha
You can start taste-testing your homebrew Kombucha at around the 7-day mark. For me, the optimum strength is at around 10 days, but this will vary depending on your taste and the brewing environment. You are now ready for second fermentation where you add the flavor and fizz.
You can flavor all of your bottles the same or add a variety of different flavors. The recipe below should provide enough blueberry ginger flavoring for 7 bottles.

Remember to handle your SCOBY with care: If you're not going to brew another batch of Kombucha straight away put it in a clean mason jar, submerge it in starter tea, and store it in your fridge. My SCOBY's have been stored for months on end without issue.
Once you've made the blueberry syrup as per the recipe, you'll add it to the flip-top bottles via a funnel and then top the bottles up with your homebrew kombucha. Do not forget to burp your bottles daily. If they are fermenting in a warm spot the carbonation will build up quickly.
When desired carbonation has been reached, store the kombucha in your refrigerator. I prefer to strain my kombucha before drinking.

Please let me know how you like this recipe, and share any other homemade Kombucha flavors you love.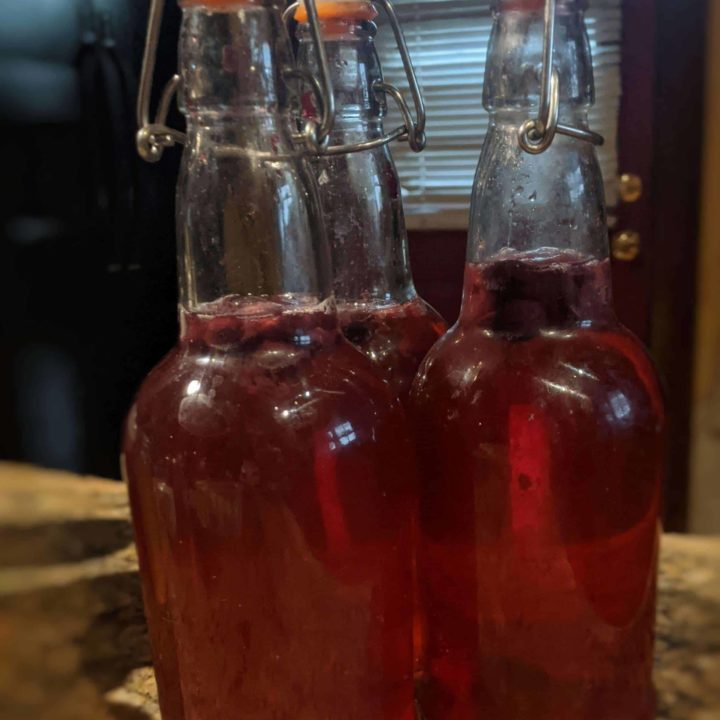 Blueberry Ginger Kombucha
Total Time:
10 days
30 minutes
Blueberry Ginger kombucha is a delicious mix of sweet and tart flavors, what's not to like?
Ingredients
For First Fermenatation:
1 Scoby
1-2 Cups starter tea
1-2 Tbsp loose tea (black, green, oolong
1 Cup Organic Cane Sugar
1 Gallon Water
For Second Fermentation:
1 Cup Blueberries (fresh or frozen)
2 Tbsp sugar
1 Cup water
Grated Ginger (I use about 1 tsp per bottle)
Instructions
First Fermentation:
Boil about 1/2 gallon of water. Put your tea and sugar into a mixing bowl or pot, and then pour the water over it. Mix until the sugar is dissolved
Let steep at least 10 minutes (if you like stronger Kombucha, steep longer).
Mix some cold water into the tea to cool it down some and then pour through a sieve into the brewing jar. If the tea is hot when you pour it into the glass jar it could crack.
Add more water to the jar until it's about 3/4 full.
Add your scoby and starter tea.
Cover with cloth fastening it with rubberband.
Place in a warm dark place (at least 70 degrees).
Let ferment for 1-2 weeks. At one week you can sample your kombucha, if it's to your liking you can then start the second fermentation. If you prefer a stronger brew, leave it to ferment for a few more days.

Second Fermentation:
Heat the blueberries, water, and sugar in a pot over medium heat until boiling, reduce to simmer, stirring occasionally. Cook until the sauce thickens, squishing the blueberries against the side of the pot.
Use a funnel to pour the blueberry sauce into the bottles, dividing equally.
Add grated ginger to the bottles.
Carefully remove your scoby from the kombucha tea jar along with any new scobys formed. Place them in a clean glass jar and then add enough Kombucha tea to cover the scoby's. Store in fridge.
Divide the Kombucha tea amongst the bottles. Leave some head space at the top of each bottle.
Seal the bottles and let them sit at room temperature for 3-5 days.
"Burp" the bottles daily to release gases-opening and then reclosing each bottle.
When the Kombucha is as fizzy as you like, place the bottles in a fridge and enjoy!

Recommended Products
As an Amazon Associate and member of other affiliate programs, I earn from qualifying purchases.