Say No to Plastic, Create a Plastic-Free Bathroom
Last Updated on July 21, 2023 by Carolyn
This post includes affiliate links which means I may receive compensation if you make a purchase via one of the links (at no extra cost to you). Please refer to my privacy policy for more information.
In honor of Plastic-Free July, I and fellow bloggers joined together to bring you this post on how to create a plastic-free bathroom. Take a minute, go to your bathroom, and look around. How much plastic do you see? Even worse how much single-use plastic do you see? More than likely your eyes will fall on plastic toothbrushes, plastic shampoo bottles, make-up in plastic tubes, plastic razors, etc. We surround ourselves each morning with plastic.
Let's see how we can do better. It's really not hard and together, we can make the world a better place (and our bathrooms too!)
Why Should You Be Concerned?
You might be thinking "What's the problem? I recycle, so what if I buy plastic-packaged items? I don't throw them out"

This is where the problem begins. If all plastic that enters the recycling stream ended up being reused, the whole plastic pollution issue wouldn't be quite such a problem. Sadly much of the plastic that enters the recycling stream still ends up in landfills or is incinerated for energy. The last figures reported by the EPA estimated only 5-6% of plastic is actually recycled. Until 2018, the US historically exported most of its plastic for recycling to China, but changes in foreign import policies have shut that door and the US now needs to take charge and deal with its own plastic waste.
This isn't just a US problem, worldwide 8 million metric tons of plastic waste are dumped into the world's oceans each year.
The solution is to reduce the consumption of single-use plastic, and that solution starts at home.
Education's Roll in Minimizing Plastic
As consumers, we need to first know that there is a single-use plastic problem in our world. I cringe to think that the majority of consumers buy the brands that they've always used without a scant thought to eco-friendly alternatives. It's just not on their radar.
Then there is the issue of product labeling. Even stalwarts like myself, get confused about product labeling. How many people see the "three chasing arrows" symbol on a package and assume the product is recyclable? I'm going to guess that the majority of the people do. That symbol does not guarantee that an item is recyclable.
Concerned citizens should be demanding better education and labeling for products, and manufacturers should be held accountable for their waste. We as consumers need to support legislation that holds manufacturers accountable.
For those interested in what all those packaging symbols mean, here's a good site that explains their meaning and where products of each type can be recycled: Recyclewits
How to Change Our Habits
I think many of us want to change but don't know where to start. Let's be real, most of us don't have money to throw away on products that don't work, so we buy what we know. Or alternatively, we step out of our comfort zone and buy something such as a shampoo bar, find it doesn't work and back we go to buying bottled shampoo. And this is the reason for this post, to share with you eco-friendly products that we use and can recommend.
A Plastic-Free Bathroom
Recycled Toilet Paper
What? You're probably thinking I have finally gone off my rocker, recommending toilet paper that someone else has used. Thanks but not thanks. And besides what plastic is involved with toilet paper?
I may be slightly crazy but not THAT crazy, recycled toilet paper is not someone else's discarded bum wadd but is mostly made from post-consumer recycled content (PCR- paper that was previously used in homes and offices, not used toilet paper). Conventional toilet paper is almost always wrapped in plastic, and some even contain microplastics within the toilet paper itself. "Pshaw", you say, this is hardly impactful. The numbers say otherwise:
Did you know that the average person uses 85 rolls of toilet paper a year, which means in the US we use over 33 billion rolls of toilet paper a year? And it takes 31 millions trees to produce that toilet paper Americans use each year? No that's not a typo 31 million trees a year. And then there's the 37 gallons of water it takes to make a single roll of toilet paper. Multiply that by the 33 billion rolls and we've wasted over a trillion gallons of water to make toilet paper, that with each flush will waste another gallon or so of water.
And then there is the problem of the very hard-to-recycle wrapping around those 33 billion rolls of paper. Houston, we have a problem!
Enter recycled toilet paper. Recycled toilet paper is made from post-consumer waste so those 31 million trees we talked about? They get to live. Approximately 10-25% less water is used in its manufacture and 25-70% less energy in its production as well as less chemicals in its production. And for those of us with septic tanks it's also a great choice as it decomposes more quickly than virgin toilet paper.
Recommended Brands
When shopping for recycled toilet paper look for:
Check to see if the product is branded as 100% recycled content,
Examine packaging-does it use plastic film or recyclable paper or a box?
FSC Certification: This means that products come from responsibly managed forests. Look for this logo on the packaging:
Here are some recommended recycled toilet paper brands:
Each of these brands received an A or A+ in the Natural Resources Defense Council (NRDC) annual review of bath tissue (just how do they test these products…oh the vision in my mind).
Simple Truth Bathroom Tissue: This is the recycled toilet paper I use. It's made from 100% recycled content and is hypoallergenic with no added dies and fragrances. Simple Truth is a Kroger Co. brand so is available wherever Kroger Brands are sold. Downside: It's wrapped in #4 film.
Trader Joe's Bath Tissue: Another economical bath tissue made from 100% recycled content, received A+ rating from NRDC.
Eco-Friendly Recycled Toilet Paper Alternatives
It would be negligent of me to not disclose other eco-friendly toilet paper solutions. 100% Bamboo toilet paper products are also available such as Amazon Aware and Whogivesacrap who use no plastic packaging.
Carly's Transition to a Plastic-Free Bathroom
Fellow blogger, Carly Hobbs of My Green Toddler, was kind enough to share how she has transitioned towards a plastic-free bathroom. Carly has replaced common plastic packaged products like shampoo and conditioner with refillable products and also now uses foaming hand wash tablets and shampoo bars. Here's her account:
"I first found a mobile refillery station for liquid products at the local farmer's markets. They had shampoo, conditioner, oil, honey, and all kinds of cleaning products. I was excited to discover this however I found it inconvenient to make a special trip to the markets at particular times and that's when I. discovered Zero Co.
Zero Co is an Australian start-up that delivers personal hygiene and cleaning products in pouches to your door with a return envelope to send the pouches back for cleaning, sanitizing, and refilling. It is truly zero waste and super convenient.
My favourite bathroom cleaning products to use from Zero Co are their bathroom and shower cleaner, toilet cleaner, and air freshener. When I step out of the shower, I use their deodorant (it actually works!) and body lotion.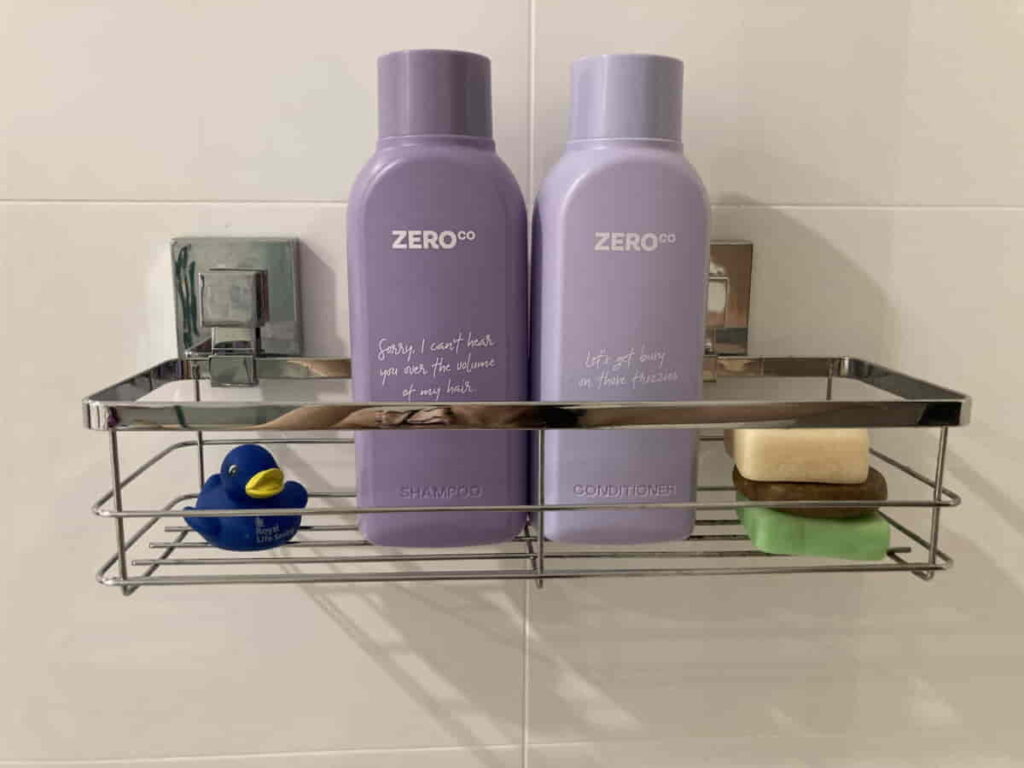 Although Zero Co has a refillable hand wash, I am not a fan of the scent. I prefer using a foaming hand wash, and have become a fan of foaming hand wash tablets. They're brilliant! "

Sadly Zero Co products are only currently available in Australia, but I have a solution for those in the US:
By Humankind, they offer similar personal care products, and what I like best about them is they offer free shipping on orders of just $15.00
"Instead of buying a product that is mostly water in a plastic container, I now buy tablets that are made from only active ingredients and add the water myself at home. The tablets come in compostable wrappers so are plastic-free and are most space efficient for storage. My preferred foaming handwash tablet after trying a few is  Tirtyl, which you can read more about in my review: Tirtyl"
Note that Tirtyl is super affordable. 12 refills that make 96oz of foaming soap cost just $17.06, that's basically dollar store pricing and it's made from eco-friendly ingredients and eliminates single-use plastic.
I am a total convert to shampoo bars. Plastic shampoo bottles usually can't be recycled so I was very happy to be able to transition away from them. They can seem expensive for a small bar but they last for ages.
Shampoo bars are easy to use. Just wet your hair and the shampoo bar and then rub the shampoo bar over your head. Rinse and repeat. The first time removes the bulk of the oils and then the second wash is when a great lather is created. The best one I've used so far is by Margaret River Made."
An Eco-Friendly Toothbrush
Did you know that over a billion toothbrushes are thrown away in the US each year, and most of them are plastic? If you've ever participated in a beach clean-up you know that many end up in the ocean.
Tina from Veganderlust.com has a recommendation for an eco-friendly electric toothbrush.
"I just love using an electric toothbrush! My teeth don't feel as clean when I use a manual toothbrush. When I started changing to a plastic-free bathroom, I just kept using my old electronic toothbrush because keeping old products is usually more eco-friendly than buying new things. But when my electronic toothbrush finally died, I started looking for an eco-friendly alternative and found the SURI toothbrush.
The toothbrush handle is repairable and recyclable and the toothbrush heads of this eco-friendly electric toothbrush are plant-based and recyclable too. And for me, the best part is that it comes in a case that cleans your toothbrush with UV light. This is great for traveling because before, my toothbrush heads always got a bit messy in my toiletry bag. With the UV light cleaning, I feel more comfortable using the heads a bit longer than I probably should, which I always did anyway."
Replace Your Plastic Razors with a Safety Razor
I came home from a recent trip to find all of these razors in my shower! I was appalled especially since I've been using the same razor for over 10 years!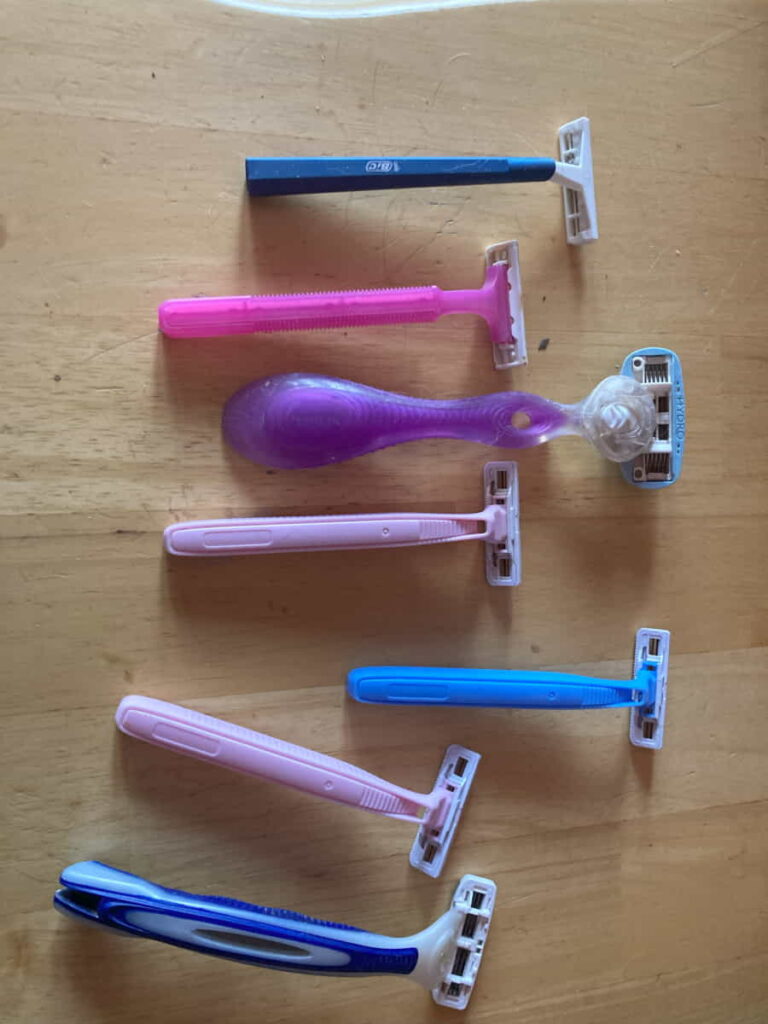 Raakhee from EasyPeasyGreeny tells us about one of her first plastic-free swaps:
"One of the first eco-swaps I made was swapping my traditional razor for a safety razor. Traditional razors are disposable made of plastic handles, rubber grips, and metal blades and, due to the combination, they can't be recycled. A safety razor itself is a one-off cost and you only need to purchase replacement metal blades. I've learned from experience that if you buy a good quality safety razor, it can last a really long time. Raakhee has a post about why she swapped to a safety razor with some helpful tips for first-time users.
Converting to a safety razor is good for the environment and for your pocketbook, and is must have if you're going to have a plastic-free bathroom. A highly recommended safety razor is the Weishi Safety Razor sold by Amazon for just $12.66 including refill blades.
Encouraging Changes
On a recent trip to British Columbia, I was encouraged to see that both hotels we stayed at were using refillable soap, shampoo, and lotion dispensers in the bathrooms. The single-use plastic bottles had been replaced with environmentally friendly solutions, great steps towards a plastic-free bathroom.
What Changes Will You Make?
These plastic-free swaps listed in this post, are easy to make yet result in big savings for the environment. Which swap will you make in pursuit of a plastic-free bathroom? Please feel free to share swaps you've made in the comments below.
Spread the word, please share this plastic-free bathroom pin!