The Striking Caribbean Coast of Costa Rica
Last Updated on August 5, 2022 by Carolyn
Our Quick Trip to the Caribbean Coast of Costa Rica
It had been 3 years since our first trip of many to Costa Rica and I had yet to visit the Caribbean coast of Costa Rica. This fall I decided it was time to fix that with a trip to the Caribbean coast.
I flew into San Jose on Nov 1, met up with Wally who'd flown down a month earlier, and, instead of heading west to the Nicoya Peninsula as we'd done for the last few trips, we headed east to Puerto Viejo.
We spent the first night at Residence La Paz, the Airbnb Wally had been staying at while having some dental work done. It's located in the La Sábana área of San Jose, not particularly close to the airport but located close to the central market, the national stadium, and numerous dental offices. It is operated by a very hospitable couple, James and Alexis who make you feel right at home and who were gracious enough to pick me up at the airport.
After a good night's rest, and a continental-style breakfast of bread, jams, fresh fruit, eggs, and cheese, we went to pick up our car at Budget rental. James gave us a lift there for a small fee. I'd booked my car rental at the airport which was a mistake since we had to fight through stop-and-go traffic to get to the airport rental location, only to turn around and head back the way we'd come. We could have rented from a location closer to where we were staying saving time and some money too.
A little trip planning tip: If you know where you'll be staying your first night you might be able to find a car rental location closer to your lodging, and at the same time avoid the hefty airport tax charged by car rental companies located at the airport.
Driving to the Caribbean Coast of Costa Rica
When looking at a map it's hard to believe the 231km drive from San Jose to Puerto Viejo takes 4 hours, but I'm here to tell you it does! The drive is mostly on a two-lane highway with lots of slow truck traffic and only occasional passing zones. It's also under construction almost its whole length. It's not a drive I'd recommend doing at night as in the construction area there is not much marking where lanes start and end yet there is often a drop of about a foot between the lanes, veer 6 inches too far to the right and you might have a very rude surprise!
The drive out of San Jose takes you out via narrow winding foothill roads which had me seriously questioning my GPS, but it was not leading us astray. About 45 minutes from San Jose the road enters the scenic Braulio Carrillo National Park and takes you through a beautiful rainforest. This part of the drive would have been quite enjoyable if it weren't for the pouring rain. The road passes under enormous ferns clinging to steep hillsides and many waterfalls tumbling down the rocky slopes. My eyes were glued to the road always on the watch for mudslides, felled tree limbs, and road washouts, and of course brake lights! I jested that maybe it would be sunny in the Caribbean.
Traversing the park takes about half an hour and then the road drops down into flatter terrain going through Guápiles and then Siquirres. There are plenty of places to stop for food and gas. This part of the drive isn't nearly as interesting taking you through many banana plantations. It continued to rain but perhaps the sky was a little brighter towards the coast?
At Limon, you'll see lots of trucks parked on the road heading to the port. Here the road turns south and follows the coast towards Puerto Viejo. And here the sky was definitely a little brighter.
Cahuita and Cahuita National Park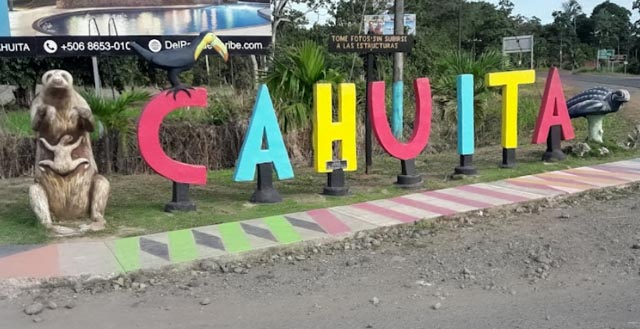 At this point in the drive, we were starving having not yet stopped for lunch, and road-weary from so much driving in construction and rain. We stopped when we arrived at the turn-off to Cahuita. The restaurant was called Restaurante La Paz. I was happy to see patacones on the menu, as I'd seen an Instagram post about them, and they were on my list to try. Patacones are fried green plantain patties, these ones being garnished with avocado and salsa and they did not disappoint, they were yummy!
Our destination in Cahuita was Cahuita National Park. Cahuita National Park encompasses 23,290 hectares of marine area and 1106 hectares of land. The marine area protects coral reefs and is home to over 100 species of fish, rays, whales and also is a Hawksbill Sea turtle nesting area.
The sea does not contain all of Cahuita National Park's treasures; on the 8 km trail that winds between the Caribbean waves on one side and the wild jungle on the other, one can view sloths, howler and capuchin monkeys, agoutis, raccoons, white-nosed coatis, armadillos, and more rarely spider monkeys, northern tamanduas, and pacas.
The park is also a birders paradise with over 560 species of birds inhabiting the Talamanca region. I found this great checklist of all the birds that can be viewed here. Herpers ( those who love reptiles and amphibians) will also delight at the plethora of slithery creatures calling the park home. Some of the most thrilling sightings are of the yellow eyelash pit vipers and the critically endangered Lemur Leaf frog.
Inaturalist Cahuita Observations is a great reference for identifying what you may see in the park, and where.
Sadly the park closes at 4:00 and we arrived at about 3:30. Park hours are 8-4, and apparently, they start steering visitors off the trail around 2:30, and don't allow visitors admission at that point. Being a nature lover, I was very disappointed (poor planning on my part). We parked the car and walked around Cahuita a little bit. It is a cute beach town of about 8 blocks or so and has a handful of reggae bars, restaurants, and hotels with a definite Caribbean vibe.
Cocles and Physis, an Amazing Bed and Breakfast
We decided it would be wise to find our hotel Physis Caribbean Bed and Breakfast before dark so we drove the remaining few miles to Cocles just south of Puerto Viejo. We arrived at the hotel at dusk. We found the Physis parking easily enough as it was posted "Physis Parking" but then weren't sure which building was actually Physis. We inquired at an adjacent soda, and the ladies there told us which gate to go to.
I was in awe when we stepped inside Physis, it is simply an oasis for spirit and for the body! Lush, tastefully lit, inside gardens with beautiful wood walkways and cozy common seating areas encircle the private rooms. The rooms each have a private shower, safe, refrigerator, and a/c. And the hosts? You'd be very hard-pressed to find more accommodating hosts than Juliet and Matthew, they are so friendly and helpful.
Having eaten not too long before we arrived at Physis, we didn't feel like eating out, and I was pretty tired from the days driving so not in the mood to go explore the nightlife in Cocles and Puerto Viejo. We chose to walk to the grocery store on the corner, purchase some refreshments and snacks and relax for the evening. Before leaving the Airbnb I did ask Juliet how safe it was to walk around the area at night. She said that walking to the store around the corner should be safe, but she didn't also didn't recommend doing any exploring after dark. I was shocked at how large and well-provisioned the Super Negros grocery store is, it is probably the 2nd nicest grocery store I've been to in all of Costa Rica.
From what we could see on our limited food foraging expedition, the Cocles area certainly looked charming with an array of restaurants, boutique hotels, and stores. Back at Physis we ate in the super comfortable inside-outside living space with the trickle of a fountain adding to the relaxing ambience.
When we retired to bed, we could hear the lull of the waves beckoning us to come explore the beach. I was excited to actually get out and soak up some of the Caribbean's sweet relaxing vibes the next day.
Our Costa Rica Caribbean Day two fun posted here: Cost Rica Caribbean Day 2: Manzanillo, Puerto Viejo

YOU MIGHT ALSO LIKE: Our Costa Rica Adventure , a page where I've grouped links to many of my posts on Costa Rica including our experiences buying property, costs to live in Costa Rica, traveling in Costa Rica and posts about many of the places we have visited.
Pin this image for later!