Is Now a Good Time to Travel to Costa Rica?
Last Updated on November 9, 2022 by Carolyn
Is it Safe to Travel to Costa Rica Now?
Information updated October 6th 2021
Many people are now resuming air travel. Is now a good time to travel to Costa Rica? Is it safe to travel? What is open and what is closed? Will the travel experience be the same? Only you can decide that for yourself. I'm here to share with you my experience of spending 7 weeks in Costa Rica during the pandemic.
I flew to Costa Rica at the beginning of February 2021 and returned at the end of the month, and previously traveled to Costa Rica in November 2020 and returned to Colorado right before Christmas 2020. I previously posted about my flights and travel to Costa Rica in my post "Pandemic travel to Costa Rica".
Recently, Costa Rica has been seeing an upsurge in Covid-19 cases. This post will help you to determine if now is a good time for you to visit or not?
Costa Rica Entry Requirements
Currently, Costa Rica requires tourists over 18 to either be fully vaccinated or have travel health insurance with covid-19 health provisions including $50,000 for medical expenses including Covid-19 care, and a minium of $2,000 in lodging coverage for quaratntine or trip interuption. I purchased my policy here: Trawick International.
Those opting to travel without health insurance must be able to provide proof of full vaccine coverage with the last dose to have been received at least 2 weeks before travel.
Travelers must still complete the health pass as detailed here.
Covid-19 Transportation
When we arrived in Costa Rica, we took a shuttle from the airport to the car rental center. The shuttle didn't have seats blocked off. We arrived at the rental center, where they only allowed one person from each party in the building. There was hand sanitizer on the counters, and the employees were behind plexiglass. I brought my own pen for signing the contracts. Alamo disinfects each vehicle prior to each new rental. Alamo, also informed us that rental vehicles are not subject to the vehicle use restrictions currently imposed on regular Costa Rican vehicles. (I'd double check what the current regulations are if you opt to rent a vehicle!) Fuel is readily available.
We only kept the rental car for 3 days. After that we relied on public transportation and taxis to get around. Passengers at bus stops are required to wear masks, and of course when on the bus too. For the most part, people follow the rules. You won't find seats blocked off on the buses, and sometimes they are full. The taxi cab drivers all seemed to be wearing masks.
One thing we soon learned about traveling during the pandemic, is that you'd better be flexible with your plans. If you are the kind of persona who can't handle changes in plans, I wouldn't recommend traveling to Costa Rica at this time.
Two weeks before my scheduled return to Colorado, I saw that the bus schedule from Montezuma to San Jose had changed. The new schedule made it impossible to get to the airport in time to catch my afternoon flight from Juan Santamaria. I researched my options (boat taxi, shuttles and flights) to figure out the best alternative way to get to the airport. I was just about to book a flight from the local airport to Juan Santamaria when I received an email saying that my flight from Juan Santamaria had been changed. The new departure time was a day earlier! I was really happy that I hadn't booked the other flight yet!
I opted to cancel the rescheduled flight and booked on another airline with a departure time that I could make traveling by bus. Since then, my boyfriend has had his return flight booked for February canceled.
Covid Tests
Be aware of your home Country's restriction on re-entry; for example, Canada announced on Feb 12, 2021, that Canadians returning home from Costa Rica need PCR Covid-19 test upon arrival to Canada as well as completing a 14 day quarantine in a government-designated hotel (at the traveler's expense) until they have negative Covid-19 test result (the quarantine restriction has now been lifted for fully vaccinated Canadian travelers). The United States requires negative antigen or PCR Covid-19 test or documentation of recovery from Covid-19 for those returning from Costa Rica . You'll now need to get tested within 3 days of your return. Info on where to get a test can be found here: https://www.twoweeksincostarica.com/covid-19-test-costa-rica/ . 1 hour testing is available at Juan Santamaria and Liberia airports for $65.00. Book your test at least 4 hours before departure, you can schedule an appointment here. You can't check-in until you have a negative Covid test. Our experience is we had results within 15 minutes, but better safe than sorry.
When I left Montezuma for my trip home, I took the bus to the ferry, a cab from the ferry to another bus terminal where I caught another bus to the airport. I had my temperature scanned at the ferry terminal and bus terminal. On the ferry, all passengers and employees were required to wear masks at all times. Every second seat on the ferry was blocked off.
I arrived at Juan Santamaria airport at about 7:30 pm and it was like a ghost town. I had to wait a couple of hours for the airline to open for check-in (my flight was at 2:00 am). Going through security was the best ever, there was no one else in line. At the gate waiting area, each row of 4 seats had the middle two seats x'd off. When boarding time came, people pretty much queued up as usual, with very limited social distancing.
I had a quick flight connection at Fort Lauderdale. I was aghast at the long lines through immigration, and was thankful that the employees there fast tracked those who had an upcoming connecting flight. Again, not much social distancing going on in those lines. Onwards to security, another long line without social distancing, and then a sprint to my gate and I was onboard my final plane home. I arrived safely in Denver.
What's Open and What is not in Costa Rica?
Costa Rica like many other countries is regulating counties by color-coded alert zones determined by Covid incidence within the counties (yellow zone for low incidence, orange for higher incidence). It's a good idea to know what level your intended destinations are at before visiting. You can look them up here: AlertasCanton .
Most commercial operations can remain open weekdays from 5 am to 9 pm, with capacity restricted to 50%. Wearing of a mask in inside spaces is mandatory.
Costa Rica Accomodations
Most hotels and Airbnb's are open and allowed to operate at 100% capacity though pools and common areas are restricted to 50% capacity (large hotels with over 100 rooms are limited to 75% capacity). You can get some great deals on accommodations. Places where breakfast is usually included have often ceased offering that service, so if you're looking forward to a leisurely morning breakfast at the hotel, it is recommended to confirm if that is still offered.
We had some shopping to do before we headed to our property in Montezuma so we stayed a night in La Garita. (Buying trees was on our agenda and there are beautiful "Viveros" (nurseries) in La Garita.) We stayed at the Uruka Lodge. A masked employee showed us to our room and we found that we were the only guests for that night. That was comforting as the shared bathroom was a bit of a worry considering Covid. I highly recommend this lodge to anyone who wants to stay close to Alajuela but not in the city itself. It's only about 12 km from the airport and is so much nicer than staying in the city. We didn't get a chance to explore the area much but what we saw was nice.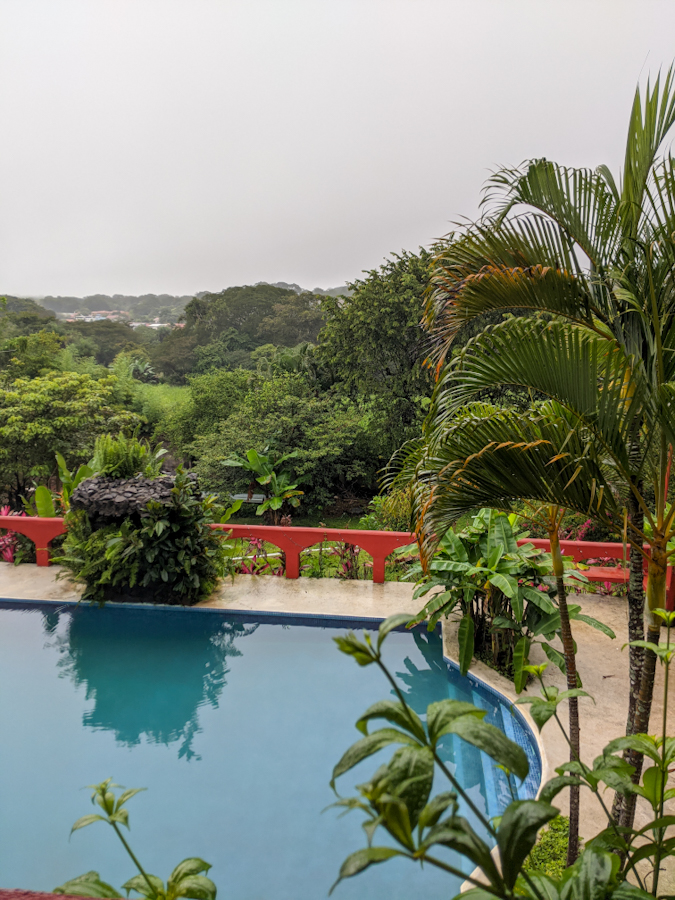 Shopping in Costa Rica
Most stores are open and operating regular hours, capacity is restricted to 50%. You'll find hand-washing stations and/or hand sanitizer outside each and every store. I believe after I went on shopping excursions, I felt cleaner leaving town than going to town! Some stores also have an employee scanning your temperature before allowing you entrance. On busy days you may find a line to enter some of the stores as they restrict the number of people allowed in at once.
Are groceries and supplies readily available? I didn't observe any shortages of anything during my just completed two month stay.
Restaurants/Bars/Casinos
Restaurants are a bit hit and miss as to being open or closed. Some are on full operating schedule, some on an abbreviated schedule, and some sadly have closed permanently. Restaurants can be open until 9:00pm (but this by no means they will be, check in advance with the restaurant ) and are restricted to 50% capacity. Bars are currently restricted to 25% capacity, night clubs are currently closed
I didn't eat out much while in Costa Rica, as we have cooking facilities at our property, but the few times I did, most of the guests were wearing masks except for when they were eating, and the serving staff are required to wear masks. Most of the restaurants in Costa Rica are "open air" where you're basically enjoying patio dining, and many have tables spaced far apart.
Beaches
Beaches are open from 5:00 am to 6:00 pm.
National Parks
National parks are now open at 50% capacity. Due to the pandemic tourist numbers are still very low, so in my opinion it's a great time to get out and see the parks and wildlife without crowds.
Tours
Most tours are operating but many have restricted capacity and operating hours. My recommendation is to make contact with any tours you are interested in before commencing travel to see what services they are offering. It would be very disappointing to plan a perfect 10 day itinerary only to find that half of the planned activities are not available.
Conclusion:
So in answer to the question, "Is now a good time to travel to Costa Rica", I feel now is a great time to visit Costa Rica, as long as you take the necessary precautions and are flexible. Flying is a concern due to the close proximity to so many people, but I have flown this Spring on several full flights prior to getting vaccinated and didn't come down with Covid-19! With the proper precautions (good mask, hand washing, social distancing pre and post flight and carrying sanitizer), I think you can fly safely. One thing I didn't have with me and wished I did was a santizing wipe or at least a tissue that I could put sanitizer on and wipe my seating area.
Once in Costa Rica, you should be able to enjoy a safe trip. I'm sure you won't miss the crowds!
Highlights:
-Be prepared to be flexible. If you're the kind of person who doesn't like to deal with changes, I wouldn't recommend travel at this time.
-Plan ahead: Make sure you'll be able to enjoy the trip of your dreams by contacting tour operators in advance and confirming your itinerary.
Be sure to have health insurance and QR code before travel: What you need to travel to Costa Rica
This post was originally published January 07, 2021, and has been updated as the Covid situation has evolved.