Trip to Costa Rica: Day 1-Denver to Tres de Junio
Last Updated on August 20, 2021 by Carolyn
Our trip to Costa Rica Begins
After months of planning and reading, the day had finally come to embark on our trip to Costa Rica. Our flight was a red eye, we left Denver at close to midnight flying to Fort Lauderdale and spent the rest of the night at the airport, and then flew out of Fort Lauderdale bound for Costa Rica at 9:00am.
It was exhilarating to finally be on our way and the excitement rose as the view from my window seat changed from the turquoise blue of the Caribbean sea to green, endless rolling mountains punctuated by an occasional dot or two that was an outlying finca. Albeit, the view was what I could catch between masses of dark grey cloud and rain streaking the window. It was a bumpy descent into San Jose and there were several gasps of "Oooh" to be heard as we literally bounced down from the clouds. Wally and I squeezed each other's hands with anticipation.
When we exited the plane into the bridge to the airport the warmth and humidity of the air hit like a brick wall. We arrived at immigration and somehow were able to communicate our trip destination to the immigration officer, showed him our return tickets, and he let us in! San Jose airport is easy to navigate as there just isn't much to it. Once through immigration, you arrive at the baggage carousels, pick-up your luggage, go through customs and you're at the exit where all the rental car booths are located.
I had read that you could get a Costa Rican SIM card right at the airport, and sure enough there was the Kolbi booth with the telltale green frog right by the luggage carousel. For $20 I purchased a SIM card with what I hoped would be enough data for my trip. The Kolbi representative was kind enough to install my sim card and activate it for me on the spot. It seemed odd at the time to be purchasing a plan where all they talked about was data limits. I realized much later that most of Cost Rica uses Whatsapp for phone calls, so plans are sold by data limits not minutes.
We had rented our car from Sixt car rentals, and of course to our dismay didn't see a SIXT booth among the car rental booths lining the exit. We asked one of the other agencies and they kindly told us where to go. We then exited the airport and WOW. Madness, total chaotic madness. There were taxi cab drivers jostling to take us to our destination, shuttle drivers waving signs, and people everywhere. All of course speaking a language we didn't understand. A fellow offered to help us and show us where to go and we didn't have a chance to say no, he grabbed our bag and we were told to follow. I was overwhelmed and had visions of our luggage being whisked away in the crowd never to be seen again. The gentleman who I'm sure was there working for tips got us to where we needed to be and we did tip him. Then we waited for our rental shuttle, watching as first a National Car rental bus came and went, then a Hertz Bus, then another bus from a hotel but no Sixt bus. I began to despair that perhaps it wouldn't come but alas after about a half an hour it did and we shot off into the pandemonium of the Costa Rica Autopista (highway).
Driving in Costa Rica is not for the faint of heart
I'd never experienced anything quite like it. Honking and beeping, vendors selling snacks between the stopped cars, people on scooters whizzing up the shoulder and cutting between the cars. It was total havoc! And this was early in the afternoon, I couldn't imagine what rush hour would bring.
At the rental car agency, we were able to get our car without too much trouble. We'd heard horror stories and were somewhat prepared for the upsell. The first thing they told us was our insurance wasn't valid. What? We'd payed several hundred dollars and it wasn't valid? This wasn't good, but there wasn't much we could do about it, so chalk it up as a lesson learned. When renting a car in Costa Rica buy the TPL (third party liability insurance) and get CDW via your credit card. We were given a cute little 4WD Suzuki Jimini as our car, and it was almost new, we cringed inwardly hoping we could return it in the same shape! Wally was the designated driver for this trip and I the navigator. We asked how best to get to Tres de Junio, Cartago, our final destination for the day, and then set off.
What a drive. We had to get to the other side of San Jose. The rental agent told us to go one way and against our better judgment, we followed his guidance and drove almost right through town. We soon learned that driving in Costa Rica is utter madness! Street signs are scarce, following road signs and speed limits apparently optional. I recall sitting at a traffic light with our GPS saying turn left, a sign saying no left turns and horns blaring all around. We opted to go round the block hoping we could find another turn but ended up at the same spot but behind other cars. To our amusement we watched as all the cars ahead of us turned left. We shook our heads, laughed and followed them.
Food Stop
After that hair-raising drive through San José we started to climb into the mountains. We were famished having not eaten a meal since the night before so we stopped at our first soda, Restaurante Eólico La Paz. We had no idea what we were ordering but it was cheap and very good! Our cost for lunch for the 2 of us was the equivalent of about $5. We also picked up some coffee in case there wasn't any at the Airbnb.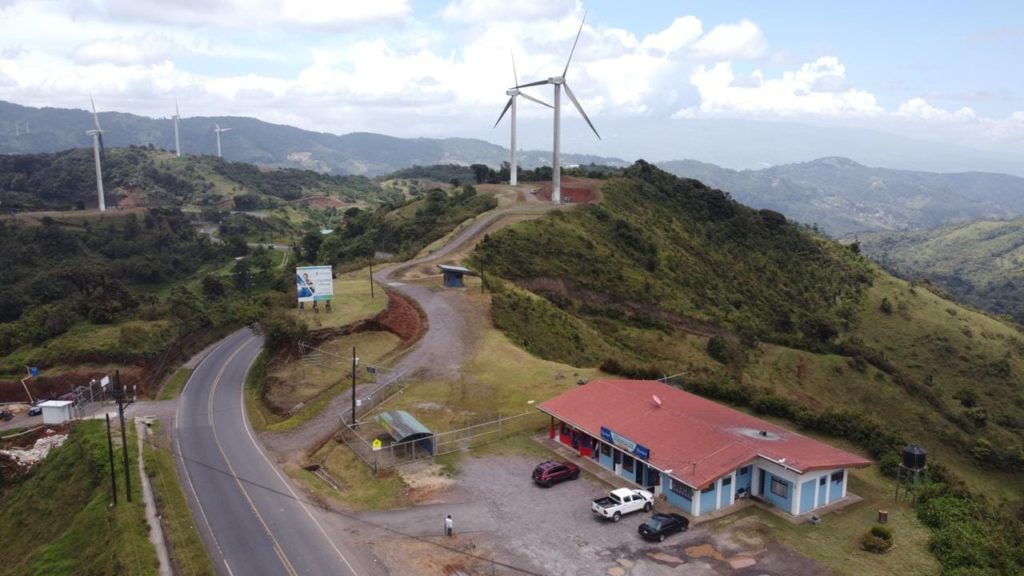 Outside of the restaurant was a fellow selling some fruit. He offered us a sample of "Uchuva" or "Golden Berries", a fruit that reminded me of the Chinese Laterns we use to grow at home. They tasted a bit like grapes, both sweet and tart, and has no pit inside. We bought a bag for road snacks.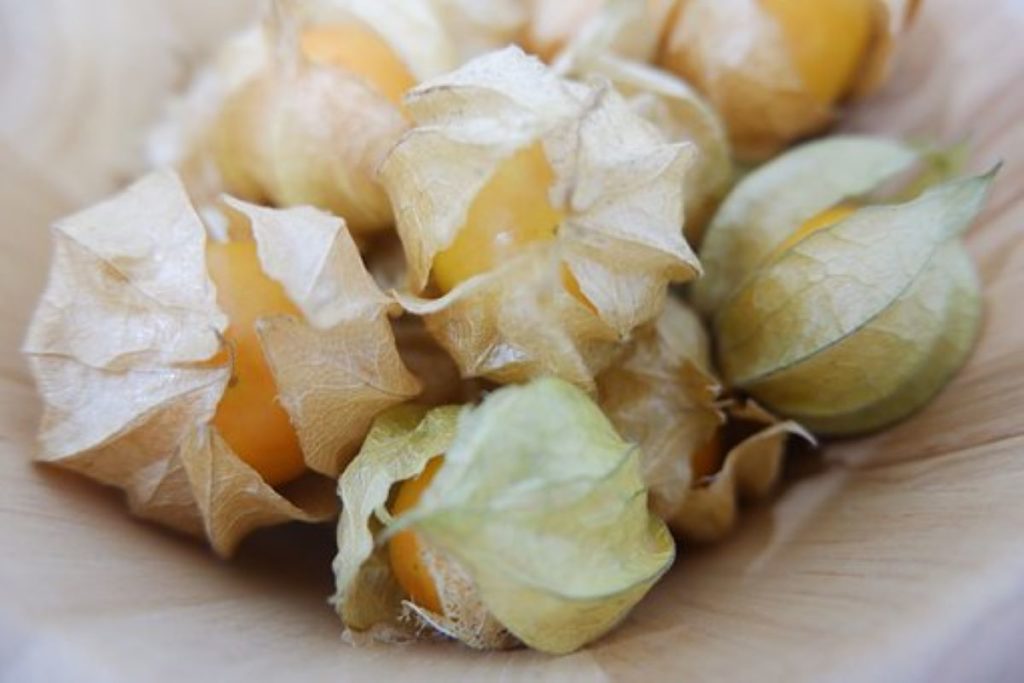 We finally got to Tres de Junio at dusk. You might be wondering at this point why on earth we picked Tres de Junio as a destination? It was basically just a layover on our itinerary for our 17 trip to Costa Rica. We wanted to get out of San José but not be driving after dark. The Airbnb photos showed a nice view of the volcano so we thought it would be a good place to stop. Finding the "Cloud Cabin" was a task. The directions were a little sketchy and daylight was fading into a misty evening, basically impossible to see anything! We headed down the dirt road until we knew we'd gone too far, turned around, and drove back to the highway, no sight of our rental. We ended up trying to ask for directions but how does one do that when you can't speak Spanish?
We're here but where is the cabin?
We pulled up the Airbnb photo on our phone and were delighted when the fellow knew where the cabin was. The driveway was very hidden and the cabin tucked away in the trees. We would never have found it without help. Why don't Airbnb hosts post signs? I can't tell you how many times I've wandered down a dark street at night stopping at every driveway peering into the darkness looking for something that looks like the photo on my phone, and knocking on doors to be told to go to the adjacent house.
The "cabin was very rustic and the furniture none to comfortable, and it was so cold. Our first night in tropical Costa Rica and these two Coloradians were freezing. We tried to light a fire but the wood was too damp to burn much so we opted to call it a night. In our bedroom there was a mound of quilts about a foot high, so we burrowed under those and shivered until we fell into an exhausted sleep.
Use the links below to follow our Costa Rica Adventure, the first post where the adventure was conjured is here: Retirement Dreams, St Croix, Mexico, Costa Rica…