James Bond, Dog Pilot to the Rescue
Last Updated on April 25, 2023 by Carolyn
"The meaning of life is to find your gift. The purpose of life is to give it away." ―unknown (often credited to Pablo Picasso but not validated)
Finding Your Purpose
For many of us finding our purpose is a struggle. You'd think after attaining adulthood, that each of us would know exactly what we want to do yet so many of us get lost in the corporate jungle, in keeping up with the Joneses and being the person we're expected to be, that we lose touch with ourselves and what we want to do and who we want to become.
We have to go through the process of finding ourselves again.
Purposeful Living Starts with Giving
"The best way to find yourself is to lose yourself in the service of others." —Mahatma Gandhi
I find it inspiring to read about others' journeys to finding purpose and I enjoy sharing stories of the same. Today I'm sharing with you an interview with none other than James Bond (formerly known as Jaroslaw Przygodzinski), a Polish immigrant now dog pilot who with his wife, Denise, founded "Life Rescue Ministry", a non-profit organization that operates "flights for life" for homeless dogs.
What a tale they have to tell from growing up under a communist regime in Poland, to becoming a husband/wife truck driving team, scrimping pennies to get a pilot's license, and even starring in a movie about everyday James Bonds and of course most importantly helping rescued dogs get a new lease on life, it's a true story about living a purposeful life and never losing sight of one's goals.
Here's their story:
About James Bond
What was life like growing up in Poland?
"I lived in a 500-square-foot apartment with my parents and younger brother. I grew up under communism but being born into it it felt normal to me. Mom cooked meals from scratch and we never ate out at restaurants. We had TV but only had access to 2 channels and what we were allowed to watch was very controlled. I remember watching a show called "Air Wolf" about helicopters, maybe that's where my love of flying was sparked.
We walked to school, there were no school buses, and cars were a luxury. The schools never closed for snow.
I remember as early as 10 years old having dreams of wanting to come to America because I saw how much better your life could be there.
I had an aunt who had moved to the States. I remember her sending us packages with oranges and grapefruit and it was such an exciting thing because that wasn't something that we could get in Poland.  One time she sent a pineapple and our whole family was perplexed as to how to cut that thing.  We had never seen a pineapple before that. We were all laughing at my dad as he was trying to figure out how to get into that thing.
A few years after I finished high school I moved up north to the Baltic Sea to study. There was one point during that time when I fell on some hard times and didn't even have money to buy food for a short time.  I was working in a pizza place and I got to eat for free there so that saved me. Then I saw an ad in the paper advertising positions for student workers in the United States, I applied and a few months later I was approved! I was 25."
You Came to the United States for a Better Life, Has it Met Your Expectations?
"I came to N.Y. city originally with only $600 in my pocket, and a backpack with some clothes, and not speaking as good English as I thought. I have now been here for 21 years and I have accomplished way more than I ever could have in Poland, including becoming a pilot.
It is so much easier to accomplish things here in the states. In the time that I have lived in the states, I have gotten married, bought 3 houses and 2 different airplanes, started a business, and obtained my private pilot's license (including IFR rating, multi-engine rating, commercial license, and seaplane license).
I've lived in 4 different states.  First Pennsylvania, where I was working in a summer camp for the first 4 months. Next was Connecticut where I was working for a guy doing siding on houses, then I found a better opportunity in Colorado so I moved there in the Spring of 2005.  This is where I met my future wife Denise in Sept of 2006. And then in the summer of 2015, we decided to move to Florida where we currently reside as we wanted to live somewhere warmer."
How Did the Two of you Meet?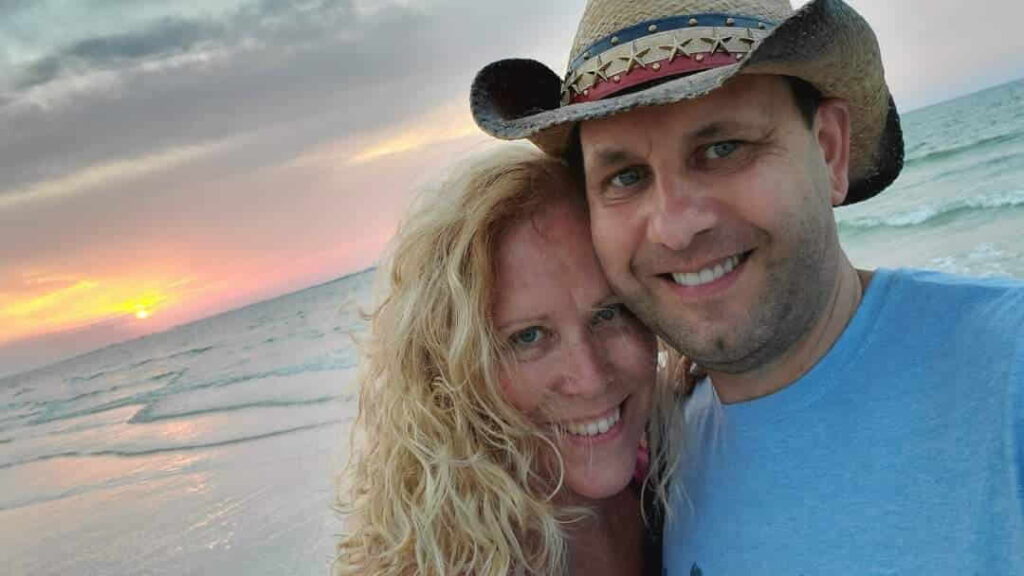 "We actually met at a local country bar in Denver.  We both have a great affinity for country music and dancing. We got married in June of 2007.
We both knew that we wanted more in life; we wanted to travel, and buy a house and I wanted flying lessons.  A week after we got married, we decided to quit our respective jobs and go to truck driving school together.  We knew this would give us the money to do all of those things…AND to pay for my flying lessons.
We quickly gave up the apartment we were living in and just stayed with friends or in hotels for the first two years that we were driving so we could save money to buy our first house in Denver. "
–(Folks, if this isn't truly pursuing your passion, what is? )–
Why Did You Choose to Become a Pilot?
"I love planes and love flying. I wanted to accomplish something that most people never get to do.  I thought getting a job as a pilot would be fun and unique.
I started out flying helicopters in 2008 and became licensed in 2009.  I spent a lot of my home time flying and putting in my hours so I could get my license. The cost of renting helicopters became too great and I switched to airplanes as the costs are half.
Once I have enough hours I hope to take on a job as a pilot. In the meantime, I volunteer as a pilot for dog rescue flights building up my hours while aiding a good cause."
What's it Like Being a Truck Driving Husband and Wife Team?
"The first year was very exciting for both of us because we were able to see a lot of the country that we hadn't seen before. We were able to see Graceland in TN, Mall of America in Minnesota, Gettysburg, PA, and many other places.
But as time went on it started to get old and boring and we would get on each other's nerves, just like anyone would when you spend 24/7 together in an 8×8 box day and night. But I have gone out solo several times without Denise when she needed to stay home to take care of things and I have to admit…it was lonely without her and MUCH much harder driving as a solo driver. We are a team and we need each other. 
On Becoming a Dog Pilot
What Prompted You to Become a Dog Rescue Flight Pilot?
I saw a post on Facebook by Mike Young on the Orlando Pilot Group looking for pilots who had their own airplanes and who might be interested in going on dog rescue flights with him. They needed more people to help. I thought it was a great idea, I could build logbook hours and fulfill a great purpose at the same time. A win-win situation."
What was Your First Puppy Rescue Flight Like?
"It was fun and exciting and I didn't really know what to expect. There were 3 gals with me (one was the pilot) and the others were there to hold and comfort the puppies. We had between 15 and 20 puppies on that flight."
Who Puts these Puppy Rescue Flights together?
"Mike Young organizes them. He contacts the Alabama Rescue Relay the organization that rescues the puppies from the shelters. Coordinating these rescues is a huge endeavor: There are pilots that fly from one part of Alabama to bring the puppies to Enterprise, Alabama, where Mike and myself meet them to bring the puppies back to Apopka airport in Florida. Once at Apopka there is a crew of volunteers who meet the planes to take care of the puppies' needs (feeding, playing with them, and letting them do their business) before the van comes to pick them up to take them to Save a Life Pet Rescue where they will be taken care of and put up for adoption.
We also fly to New Smyrna Beach, Florida for Florida Pointer Rescue."
Do You Get More Requests than You Can Meet?
"Sometimes. Both Mike and I have other commitments such as work!
The last flight I did I was told I was going to have 17 puppies and I ended up taking 26!  I think that was a bit much for my plane with me and 2 other girls, but I couldn't leave them behind."
Life Rescue Ministry
You've Started Your Own Non-Profit Organization, Life Rescue Ministry, Can You Tell Me Why?
"The purpose was threefold.
To give people a good non-profit cause to which they can donate and have the donation be tax-deductible;
We wanted to give back to the Alabama shelters that so need the money to help these puppies;
And we wanted to be able to accept donations to cover fuel and maintenance of the airplanes and hopefully have enough to help out other pilots flying for rescue who do this out of their own pockets."
What kind of volunteers do you need and what do they do?
"We mostly need ground crew to help with unloading the puppies from the planes. They feed the puppies who are very hungry when they arrive, and they also watch them to be sure there are no sick puppies that need to be separated from the others and looked at by a vet. The volunteers also walk and play with the puppies and potty them before the van comes to pick them up. Anyone wanting to volunteer in Apopka can join this Facebook group to get more information: Puppy Rescue Flights ."
Or visit our webpage at: Life Rescue Ministry
Do You Keep a Count of Puppies Rescued?
"I've done about 9 or 10 puppy rescue flights with an average of 15 puppies per flight so approximately 150 puppies. Mike has been doing this for about 11 years and has rescued upwards of 8,000 puppies!"
Anything Else You'd Care to Mention About What You Do?
"I did not grow up with dogs when I was in Poland. My first experience ever having a dog was
when I met Denise, she had a German Shepherd mix named Maggie that she had rescued. Maggie ended up spending 10 years in the truck with us. It was a very sad day when we ultimately lost Maggie.
It took us 5 years to finally be ready for another dog, and we adopted Daisy, a little papillon this past March.
Another thing I'd like to mention is my name change and how it came about. When I became a US citizen in 2011 I had the opportunity to change my name. Denise and I had talked about it before because "Przygodzinski" was just too difficult for most Americans to pronounce. We decided to have fun with the name "James Bond". I knew it would make people smile and laugh.
Readers, you should get a chuckle out of this: After writing this post Denise had to call me to tell me I had mistyped James's birth name both times, probably a wise choice to change your name James!
And because of my name change, I was contacted by a small movie producer from Australia. He was looking for average guys with the name James Bond and was wanting to make a movie about them and how the name has affected their everyday life. He liked our story and featured us in the movie. It was shot in 2012 and has just been released in theaters but only in New Zealand and Australia. It will eventually make its way to the states."
Here's a link to the trailer: The Other Fellow.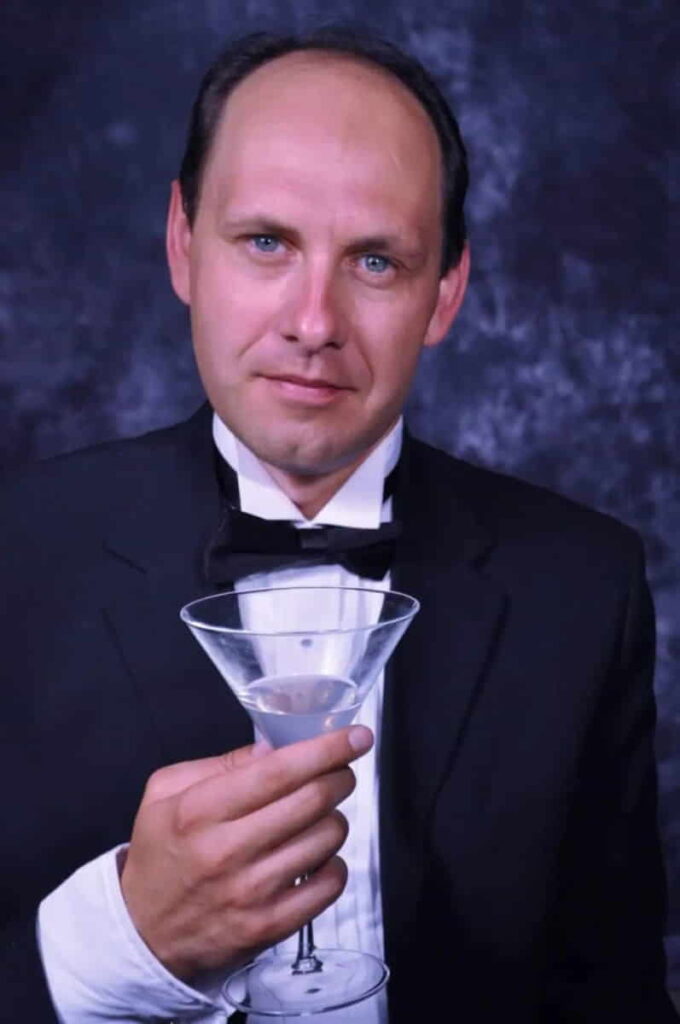 Dog Pilots Across the USA
Mike and James are just two of many pilots across the USA who donate their time and valuable use of their airplanes to rescuing dogs in need.
If you're interested in volunteering for such an organization do a google search and there is a good chance you'll find a like organization, near you. James and Denise's non-profit organization also accepts donations if you don't have time but would like to donate to the cause. You can donate here.
If you want to read more about what these dog pilots do, there is a book available: Dog is My Copilot
Enjoy reading inspiring interviews? Here's a couple of more: Expat Tales: With Love From Morocco and Moving to Costa Rica During a Pandemic.