Costa Rica Day 2: Tres de Junio to Tinamaste, Visit to Parque Nacional Los Quetzales
Last Updated on September 26, 2022 by Carolyn
Onward to Tinamaste and Parque Nacional Los Quetzales
Our day 2 itinerary includes a stop at Parque Nacional Los Quetzales and then onward to Tinamaste to our next Airbnb stay.
Introduction to Costa Rica Ways
After an unexpectedly cold first night, we awoke to a sunny morning and were eager to explore and see more of Costa Rica, but first things first we needed to get some of that famous Costa Rican coffee flowing through our veins. We rummaged through drawers and cupboards, but alas we couldn't find a coffee maker, or should I rephrase that and say a coffee maker like we were used to. We did find a wooden contraption with a stocking filter and were somewhat appalled when we realized that this indeed was the coffee maker! We couldn't believe it; we were going to have coffee brewed in some cast-off stocking? With trepidation, we boiled some water and made our morning coffee (painstakingly as the coffee grinds were so fine they kept plugging the sock). And despite our worst fears, the coffee was quite tasty if a little thick!

Later on in our travels, we learned that this sock contraption is a traditional Costa Rican coffee maker also known as a "Chorreador de Cafe", and used correctly can brew some quite fine coffee. It's wonderful in its simplicity, no electricity required, just a means to heat water.
Note: This article may contain affiliate links. Full disclosure here.
With our caffeine needs quenched it was now time to shower and get out and explore. I stopped in my tracks when I saw the shower. It was none other than a Costa Rican suicide shower. I had read about these contraptions in Nadine Pisani's Happier than a Billionaire, and I also recalled her friend getting shocked by one. What to do? After a day's travel, we definitely wanted to shower. Wally is an electrician so I had him investigate it to make sure it was wired safely though let's be real, how safe can something with electricity and water be? He said it was scary but should be OK, so I said "Hop in", heck I wasn't going first! Happily, he survived the experience so I followed hurriedly-I wasn't going to give it more chance than I had to to shock me!
After showering we explored the gardens around the cabin. Blue hydrangea was the first flower we recognized growing wild, then lots of philodendron and monstera. It was like walking through a tropical plant nursery, so many plants I'm accustomed to seeing grown as houseplants, just growing wild.
Parque Nacional Los Quetzales
The morning was damp and drizzly so we set out on our way to our next destination, Tinamaste, with a planned stop at Parque Nacional Los Quetzales (Los Quetzales National Park) in the hopes of seeing the famed Costa Rica Quetzal.
We set out in the morning mist and soon learned some things about Costa Rica Driving:
Speed limits appear to be just a suggestion
Solid white lines? No problem, pass anyway
Pass going up a hill, it's OK, you can squeeze in somewhere if need be.
Scooters can go wherever they want, pass on the shoulder, cut right in front , wherever
And most importantly beeping the horn at you doesn't mean they are annoyed with you, it's notice that the driver is about to pass, cut in front etc., so pay attention!
To say the least it was a pretty adventurous drive. We passed horses and goats grazing by the road staked or loose. Wally was driving and my eyes were always scanning the jungle in search of monkeys, parrots and toucans. This route is a winding mountainous route at an altitude of around 7000′ so much of the drive was through cloud forests. We passed many small waterfalls tumbling down the hillsides, some flowing right across the road.
At the entrance to the Parque Nacional Los Quetzales, we went inside to talk to the park rangers. Sadly for us, this was not the season to see Quetzales in that area. They follow their food sources so were further north at this time of the year. I was anxious to hike in a real jungle so since the rains had stopped for a bit we ventured out.
The trail we took wound us through moss-covered trees, some of them giants. The ground was covered with a lush growth of a variety of flora and fungi, with moisture hanging from every leaf. It truly was a different world.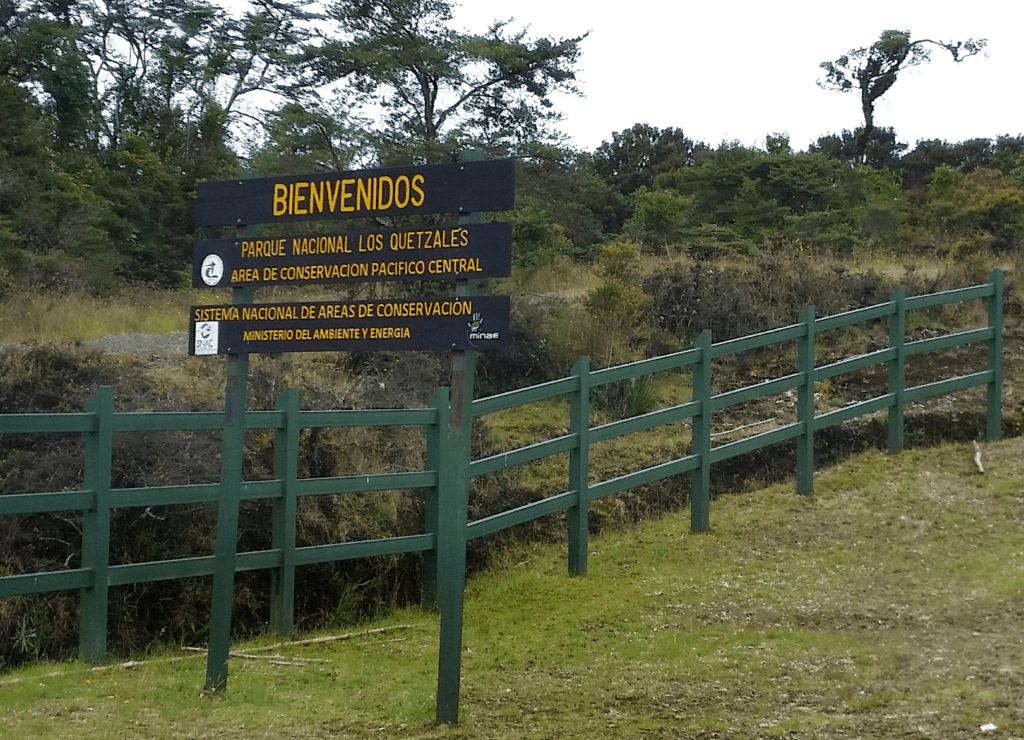 Tinamaste
After visiting the park we headed to Tinamaste where we would be staying for the next 3 nights. The rains resumed and the fog (or clouds?) thickened making the drive slow. We arrived at Tinamaste and instead of checking in to our Airbnb, we opted to take a quick drive to Dominical so we could see the coast. The road down to the coast from Tinamaste is windy, steep and narrow, and heavily trafficked. The drive proved treacherous due to a huge downpour that burst out of the clouds, making the road a river. We came around a sharp bend and narrowly avoided a head-on collision with a car that was in our lane heading straight for us. Hairraising to say the least. Further down the road, we forded "rivers" formed by all of the rain running across the road carrying with it rocks and debris. And then like that, the skies cleared and it was nice out again.
At this point, we were ready for a meal and rest. We drove down the coastal highway "Costanera Sud" for a few miles in search of an eatery, and didn't see much in the way of restaurants. Since it was after 4:00pm thought we'd better find our Airbnb before it got dark (being only 10 degrees away from the equator, evenings come early in Costa Rica, with it being completely dark at 6:00 pm pretty much year-round).
We returned to Tinamaste and were pleased to see that the "raging rivers" from our trip down the road had completely disappeared for our trip back up. We navigated to what we thought was our turn-off for our Airbnb (without many road signs and no addresses, navigation is interesting). We went up and down the road several times but like the night before we couldn't find our Airbnb cabin. This time I had the number for our host and she was able to guide us to our destination. A note to Airbnb owners: Please post a sign with the name of your accommodation! And travelers take note: Make sure you get the phone number of your Airbnb host so you can call or text if you can't find your stay!
We were quite pleased with the Airbnb Cabin with a View and Lita our host was very accommodating. The cabin was simple and inexpensive (just $35 a night) but had everything we needed and had a lovely deck upon which we could drink our morning coffee and watch the birds and other wildlife. Still hungry, we asked Lita for restaurant recommendations as well as directions to where we could buy groceries.
We had a pleasant dinner at a local restaurant, the name of which eludes me. It was Italian, and the seafood pasta I had was tasty. We shopped for groceries at the Mini Super Elizabeth which is very different from our American mega stores, but a very typical Costa Rican grocery store. We were somewhat surprised at the prices of food, with many of the products being more expensive than in the USA (post Is it Expensive to Live in Costa Rica details food costs).
We turned in for an early night which became our norm in Costa Rica as the nights do come so early but so do the mornings!