Does Sustainable Investing Pay?
Last Updated on June 17, 2022 by Carolyn
A Healthy Dividend from a Sustainable Investment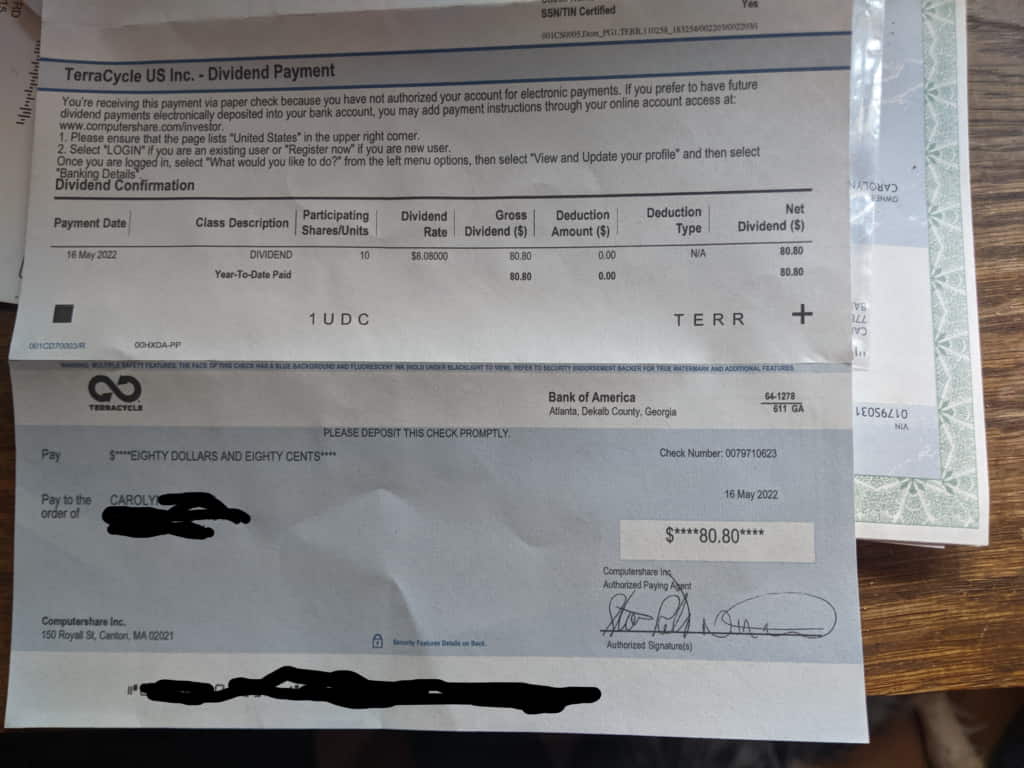 Note: This post may contain affiliate links. Full disclosure here. Investment advice published here is of a general nature only as disclosed here.
I received this check in the mail a few days ago, it's my dividend check from my 10 shares in Terracycle, which I purchased for $100.00 a share three years ago. $80.80 may not seem like much but when you consider that this is the annual return on a $1000 investment you'll realize that this is an 8.08% dividend! This positively makes me giddy. Does sustainable investing pay? It certainly does.
What is Sustainable Investing
Per Harvard Business School, the definition of Sustainable Investing is as follows:
" Sustainable investing, also called socially responsible investing or ESG investing, is a means of investing in which an investor strongly considers environmental, social, and corporate governance (ESG) factors before contributing money and resources to a particular company or venture. The goal is to, whenever possible, use investment dollars to promote positive societal impact, corporate responsibility, and long-term financial return. "
Why Invest Sustainably?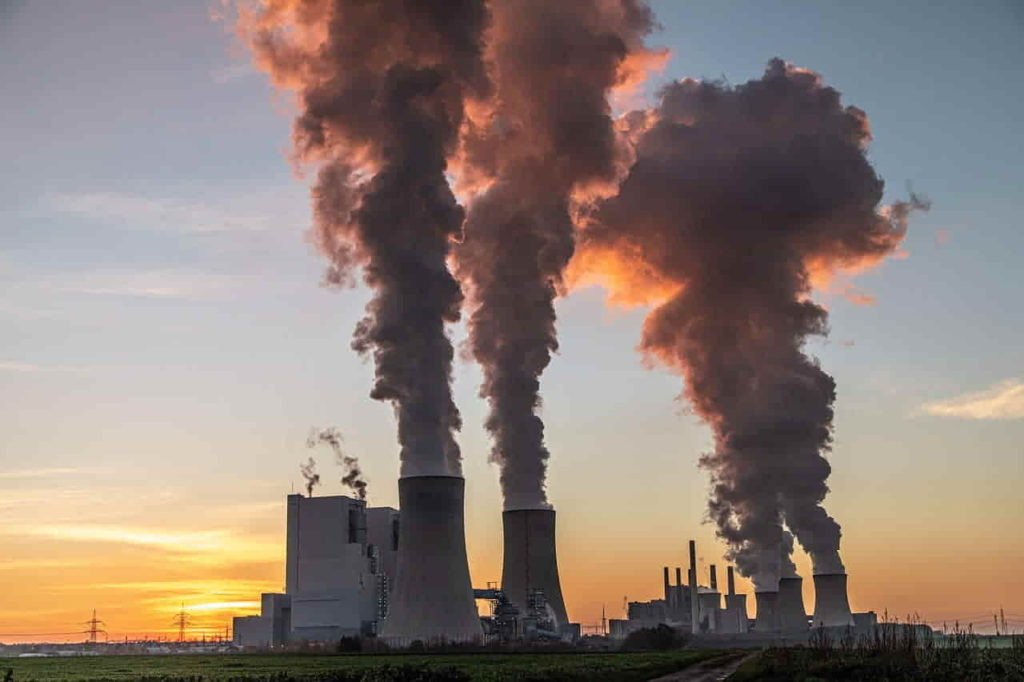 "Just 100 companies are responsible for 71% of global emissions "
-Carbon Majors Report. 2017.
The report goes on to say that 🙶 a huge acceleration in the extraction of fossil fuels has doubled their contribution to global warming since 1988 🙷 , with increases in coal production being a leading contributor to increases in carbon emissions.
If you care about our planet I doubt you'd want to be investing in these companies. Who are these companies you wonder? The top 5 offenders are:
China (coal)
Saudi Arabian Oil Co. ( ARAMCO)
Gazprom(OAO)
National Iranian Oil Co.
ExxonMobil Corp
Do you own the popular Vanguard Total Stock Market Index Fund? Guess what it ? It has a huge stake in ExxonMobil as do other popular funds such as the Vanguard 500 Index Fund and Fidelity 500 Index Fund.
Now pause for a minute and think what might happen if we all chose not to invest in these top 100 polluters. Don't you think these companies might clean up their act?
Do I have to Sacrifice Returns to Invest Sustainably?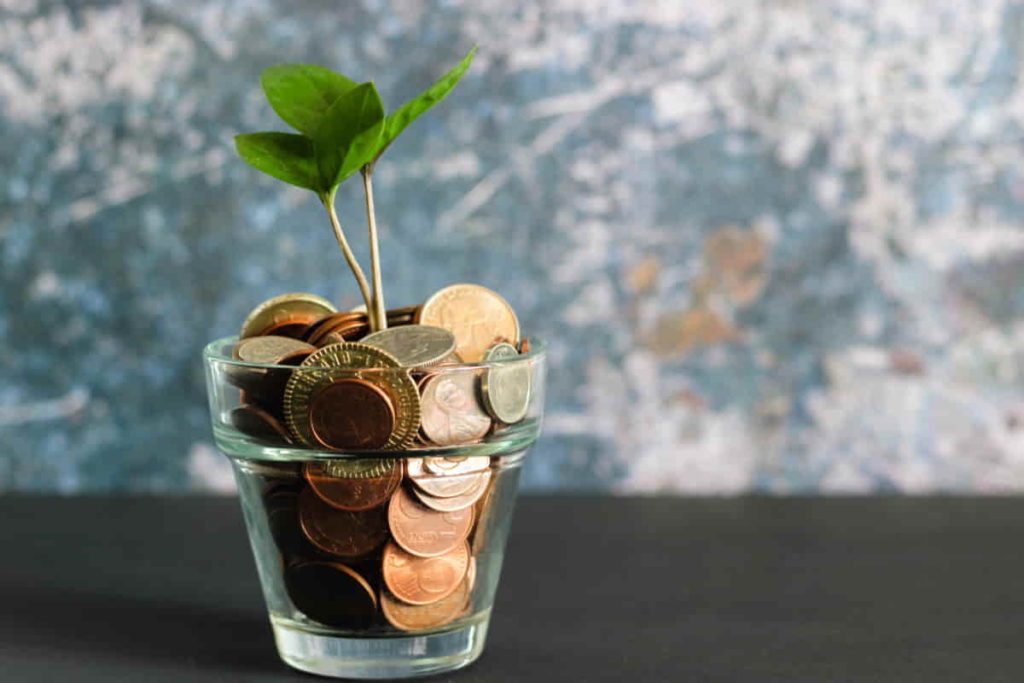 This is rather a self-serving short-sighted question, but since many of us need to live off of our investments it isn't a totally unreasonable question.
And happily, the answer is no, you don't have to sacrifice returns to invest sustainably.
Morningstar published an article comparing US Large Cap ESG Index Funds to Ishares Core S&P 500 ETF "IVV" (a conventional benchmark). The 2021 average total return of the ESG funds was 29.19% compared to 28.66% from IVV , and the 2 Year average total return was 25.75% for the ESG funds, and 23.41% for the benchmark IVV.
How Do I Find Sustainable Funds to Invest In?
The ESG market has exploded in the last few years, with trillions of dollars pouring into ESG funds each year and ESG investment options have grown exponentially. Virtually all the big-name mutual fund and ETF companies have ESG options available.
Morningstar has an ESG Screener which measures portfolio-level risk from environment, social, governance, or ESG factors, and then assigns funds a Morningstar Sustainability Rating. You can use the screener to filter for the ESG factors most important to you.
Kiplinger has numerous articles on ESG investments that may assist you in whittling down your options.
Three standout ESG fund performers include:
Who is this Terracycle Company? And Why did I Invest in it?
I chose to invest in Terracycle because I was looking to directly invest in a company that promotes recycling and reusing materials instead of adding to our ever-growing trash problem. One of my criteria for investing was that the company also be profitable.
From their investor pitch on Startengine.com:
🙶 We profitably recycle what most consider to be "unrecyclable." Today, not someday in the future, pretty much everything we once considered non-recyclable waste can be collected and transformed into raw materials for the creation of new products. 🙷
How to Find Sustainable Start-ups
If you're willing to gamble a few bucks (and crowdfunding really is gambling) there are numerous platforms where you can invest in a sustainable start-up. Be aware that crowdfunding is not for everyone ( and probably isn't for most people).
Crowdfunding Pros:
Small minimum investment;
Possibility of above-average returns if you fund a success story;
Transparency
Crowdfunding Cons:
Though most platforms thoroughly screen crowdfunding applicants, it's still a fact that most start-ups fail;
Initial investments often have fees associated with them;
Illiquid-most are sold as a long term commitment
Should you decide to invest in crowdfunding investments be sure to do your due diligence and don't be afraid to ask questions. It's also wise to invest in small increments so you don't have all of your eggs in one basket.
Acretrader: Have you dreamed of owning a farm but didn't want to get your hands dirty? Would you like to support a farmer? Acretrader has joined with Leading Harvest, the industry-leading sustainable agriculture standard. Acretrader's minimum investment is $10,000, with most investments offering an annual return in the 7-10% range. This crowdfunding platform is for accredited investors only.*
StartEngine: This crowdfunding platform allows anyone over 18 years old to invest and some offerings have a minimum investment of $100.00. A nice feature offered by start engine is the ability to sell investments on StartEngine Secondary. StartEngine makes it easy to search for sustainable investments via their Clean Technology and Environment business sector screens.
Raisegreen: Touts itself as "The Climate Action Investment Platform". Raisegreen offers debt and equity investments with debt investments offering a 7% annual return at the time of writing.
Wefunder: Another well-established crowdfunding company is Wefunder. It offers a variety of start-up investment opportunities and minimum investment as low as $100.00. It's a little harder to search for sustainable opportunities as there is not a specific search category for sustainable opportunities. Wefunder success stories include Meow Wolf and Robinhood.
Sustainable Investing is an Investment in the Future
Whether you choose to invest in publically traded ESG stocks and funds or choose to gamble on a few start-ups, investing in the ESG sector is an investment in the future.
Saving for a home down payment? You'll want to read this post: Where To Stash Your Down Payment Savings.
*To qualify as an accredited investor, you must have an income of $200,000 (as an individual) or $300,000 (as a couple) for the last two years or have a net worth (excluding primary home) of $1 Million or more.