Essential Travel Hacking Tips, Myths, and, Facts
Last Updated on May 24, 2023 by Carolyn
Travel Hacking: Testing the Waters
Note: This post may contain affiliate links. Full disclosure here. Investment advice published here is of a general nature only as disclosed here.
I did a thing last month. I ventured into the deep dark ocean of travel hacking. What compelled me to do this? Post after post on social media bragging how (insert name of famous blogger) scored first-class tickets to Paris, Australia, or Peru for free or next to free, by using this or that travel hacking tip. I have always questioned giving up good solid cash back in lieu of points but last month something made me investigate this whole unexplored realm and it was an enlightenment.
For many years I have chosen my credit cards, and I thought wisely, based on their cash back. I have my Penfed Visa card that I use for fuel and grocery purchases to garnish 5 and 3% cash back respectively, and then my Discover card that rewards me with 5% back on groceries, fuel, PayPal, and Amazon purchases in rotating quarters and my stalwart Fidelity card that I use for 2% back on all purchases. All with no annual fees.

Why would I want an airline credit card with travel mile rewards instead of cash? I don't have loyalty to any particular airline, I usually opt to take the cheapest, most direct flight (which unfortunately for me usually ends up being Spirit Airlines).
The answer to the question why would I want an airline credit card? Bonus offers- many airline credit cards come with amazing bonus mile offers, offers that can push you into Elite status with the airlines and give you some enticing perks such as free companion passes, free baggage, priority boarding, etc. Perks that can add up to hundreds, even thousands of dollars over the course of a year. These offers do come with a minimum spend amount within a certain period, but most aren't ridiculous.

Some current credit card bonus miles offerings include:
Southwest Airlines Rapid Rewards Performance Business Card: 80,000 miles
Southwest Airlines Rapid Rewards Plus Individual Card: 60000 miles plus a 30% off code.
United Quest Card: 60,000 miles
Chase Sapphire Preferred Card: 80,000 miles-offer ending soon! (This is a great offer)
American Express Platinum Card: 125,000 points

Note: This post is updated frequently but please review the terms when you apply-they change frequently!
The list is endless. So I'm sharing with you the travel hacking tips, myths, and facts that I've learned.
So What Exactly is "Travel Hacking"?
Travel hacking is simply the process of using airline and hotel mile awards to earn free travel.
It usually doesn't stop at applying for just one card earning points and calling it good. It's a system whereby users strategically open, close, and utilize credit card accounts to maximize travel rewards.
It sounds rather complicated but in reality with the aid of a couple of apps, which I'll discuss later in this post, is fairly straightforward.

How Do I Use Travel Hacking For Free Travel?
The aforementioned bonus miles awarded upon spending the minimum spend on your selected card translate into free flights or other travel rewards.
For example: If you apply and are approved for the Southwest Airlines Rapid Rewards Plus Card, and meet the minimum spend of $3000 in 3 months, you'll receive 75,000 miles. Those 75,000 miles will net you approximately $1125 in southwest flight value.
Is Travel Hacking For Everyone?
Travel hacking is definitely not for everyone. If you don't pay your credit card statement balance in full every month, I wouldn't recommend venturing into travel hacking. First, take care of that debt via some of the tips mentioned in the post "3 Easy Steps to Make Ends Meet".
Also, you should have a credit score of at least 750 so that your application will be accepted for some of the higher bonus point offers.
Lastly, you have to have the ability to stay organized and pay attention to detail. Travel hacking involves tracking minimum spend dates, spending, and points. There are apps that make this simpler but it still takes some time and organization.
How to get started with Travel Hacking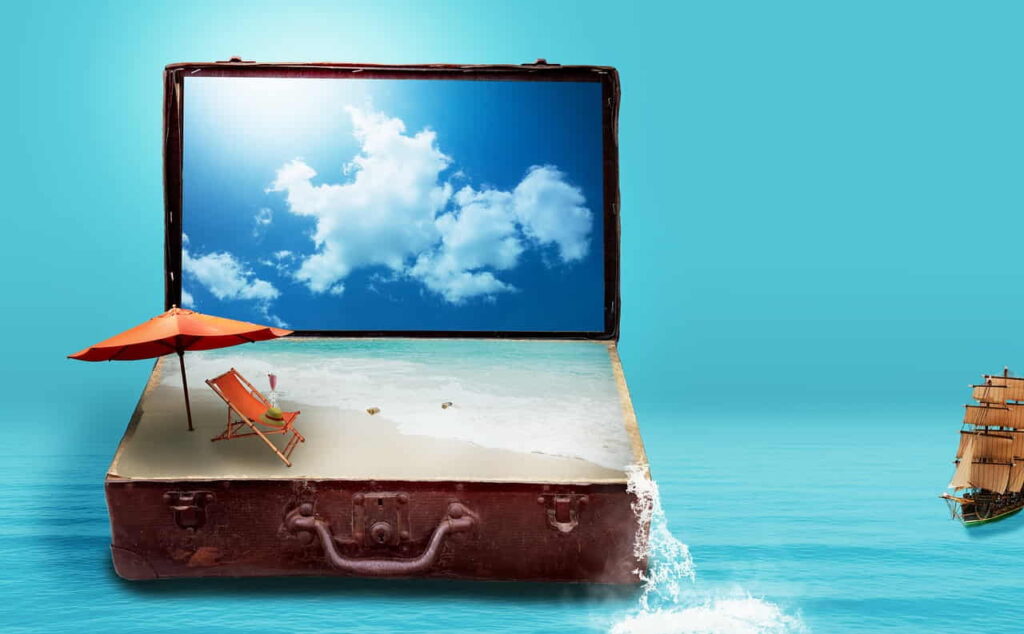 The first thing you need to take a look at before you undertake your first travel hack is to set goals. What are you trying to accomplish with travel hacking? Are you looking for flight upgrades and/or access to lounges, or are you looking to score bigger than that with perhaps a whole free trip?

Other things to pay attention to are:
Where do you want to travel to?
What airlines and/or hotels do you frequently use?
Do you usually travel alone or with a companion?
Would you like to have access to airport lounges?
Write down your goals and then you can scan the credit card offerings that best match your goals. There's no point in signing up for say a Southwest Airlines card that will amass Southwest Airline miles if your goal is a free trip to Europe (Southwest Airlines doesn't fly to Europe). On the other hand, if you frequently take weekender type trips to various destinations in the US with your significant other, a Southwest Airlines Card that earns you a companion pass might be just the ticket!
My Travel Hacking Goal:
A Southwest Airlines Companion pass. Most often I travel with someone in my family and having a companion pass would significantly shrink our travel budget. Southwest Airlines flies to most destinations I fly to with the exception of Canada, but they get me close enough to the border that I can rent a car or get another flight to reach my ultimate destination.
Choosing a Credit Card
Once you've established a goal it's simple enough to browse the offers and make the best choice to attain that goal. Things to pay attention to other than your goals before you make that first travel hack credit card application are:
Minimum Spend: How much do you have to spend in what time frame to receive the bonus miles
Only apply for a card when you know you can hit the minimum spend. I applied for the Southwest Airlines Rapid Rewards Performance Business Card which has a fairly hefty minimum spend of $5000 in 3 months because I know all of my insurance policies come up for renewal in the next 3 months and that will take care of a huge part of the minimum spend.
Annual Fee: How much will it cost you to hold that card, and is the fee waived for the first year?
Bonus Miles: If there isn't a huge bonus to apply look for another card, this is where you amass miles quickly
Foreign Transaction Fees: It's likely that you'll be using this card for travel, so it's best to sign up for a card with no foreign transaction fees.
Airline Alliance Programs: Familiarize yourself with airline alliance programs. Airline alliance programs are partnerships between airlines that enable you to transfer miles and rewards between airline programs.
Transferable Miles/Points: Some cards like Chase Ultimate Rewards and American Express Membership Rewards offer transferable miles/points which enable you to utilize the points towards flight purchases made through their portal without restriction on what airline you use them on. Ultimately, this lets you book the best value flight available to you at the time of booking.
Travel Perks: Many airline cards come with nice travel perks like free bags, boarding upgrades, free wi-fi, etc. Choose a card that has perks that you can use!
My First Foray Into Travel Hacking: As mentioned above I've decided a Southwest Airlines companion pass is my goal. To earn a Southwest companion pass you need to earn 125,000 (this is increasing to 135,000 in 2023) rapid rewards points in a calendar year. I thought that would be impossible for me until I read some travel hacking tips. By opening and meeting the minimum spend on just 2 Southwest credit cards I'll earn 155,000 bonus points.
***NEWSFLASH: Southwest currently has an exception promotional deal: One card, one minimum spend and you earn a companion pass for up to a year! This offer is short-lived it expires 03/19/2023 so apply for the card now and start earning that pass!
I just have to make sure I earn those all in 1 calendar year, so I'll be sure to track my spending and make sure that the minimum spend is hit on the first card early in 2023 and not in 2022. This will also reap me an additional benefit: The companion pass is valid for the balance of the year earned as well as the full calendar year that follows, so with any luck, I'll receive the companion pass in early 2023 and it will be good through 2024.
I applied for the Southwest Rapid Rewards Business Card in October so the 3 months bonus period will end in January. I'll be applying for the 2nd card this month a personal Southwest Rapid Rewards Plus card, it's bonus period will end in February.
Achieving minimum spending shouldn't be difficult even though it's $5000 on the first card and $3000 on the second because ALL my insurance policies come due between October and January, add to that a vacation to Belize scheduled for December, normal household expenses, holiday gifting and I should easily attain the minimum spend.
The Credit Card Application
A few travel hacking tips and rules to keep in mind:
Limit On Number of Applications: Some credit card companies such as Chase limit the number of applications you can make in a certain timeframe. This is very important to keep in mind when planning your travel hacking.
To put this in context: I'm opening 2 Chase credit card accounts to earn the bonus miles I need for a companion pass, one a personal card and one a business card. Chase limits you to 5 opened personal accounts (with any issuer) in the last 24 months (the business cards don't go against your card count). If I had opened 5 other credit cards in the last 24 months my application would be declined.
Name on Application: If you don't have a miles account with the airline you're applying for a credit card with, be sure to you the legal name that's on your travel identification documents. This will avoid problems when syncing point accounts with the airlines.
Ready to Apply? Here are a few quick links to popular offers to get you on your way:
Southwest Airlines Rapid Rewards Performance Business Card: 80,000 miles
Southwest Airlines Rapid Rewards Plus Individual Card: 75000 miles (until 12/05/22)
United Quest Card: 80,000 miles
Chase Sapphire Preferred Card: 60,000 miles
American Express Platinum Card: 125,000 points and as well as airline, hotel, uber, and Walmart credits! This card can quickly pay for itself. It also enables you to access many airport lounges that offer FREE food while traveling and comfortable places to wait for your next flight.
Organizing Your Travel Hacking
Now that you've ventured into the world of travel hacking you'll want to keep track of credit card bonus reward dates, applications, etc. Since dipping my toe into the travel hacking waters I have signed up for the following:
Travel Freely: This website (or app if you prefer to use the app) will track your cards, points, miles, point value, and credit score and it's FREE. You'll also receive free travel hacking tips scattered throughout the app.
Personal Capital: I track all of my credit card spending at Personal Capital. You can link your bank accounts and credit cards for an updated financial snapshot every month -and it too is FREE.
Credit Karma: This is a good site to monitor your credit score, and you guessed it, it too is FREE.
Awardwallet: this app will track all of your points and miles earned so at a glance you know when you're close to an award, and also can see if any points are in jeopardy of expiring.
Travel Hacking Myths:

Isn't cashback better than travel hacking for points? If you travel by air or have a special trip you're saving for, the bonus points on travel cards are usually worth more than the cash bonuses offered by other cards. The actual rewards for spending may not be as high as your cash-back credit card but once you've attained your minimum spend you can use it for just those spending categories that are worthwhile, or close the account if you no longer need it (more on that below).
Won't Travel Hacking Ruin My Credit? With careful management, travel hacking shouldn't bring down your credit score. Whenever you apply for a new card your credit score may fall up to 5 points from the hard credit inquiry, but if you consistently pay off your cards timely every month and don't go crazy applying for several cards at once, your credit score should be fine and bounce back up.
Travel hacking is very time-consuming: Travel hacking really only takes organization and a bit of time every month if you use the apps mentioned above and monitor your status once a week.
Annual Fees Are a Deal Breaker: I always avoid annual fees if their cost exceeds their benefit or the benefit of another card with lesser annual fees. However, just because a card has an annual fee doesn't mean it should be avoided at all costs. It's not hard to do a simple cost-benefit analysis to figure out if the annual fee is worth it or not.
Travel Hacking Facts:
Subscribe to travel and airline newsletters: Be sure to subscribe to your chosen airline and hotel's newsletter to stay abreast of special offers and promotions.
I recently missed out on a Southwest promotion where tickets booked on certain days were eligible for a free companion ticket for the same flight. I booked flights that would have been eligible for a free companion ticket just days later. There are also some good travel hacking newsletters published by some blogging greats such as The Points Guy and Extra Pack of Peanuts. These guys will provide you with all the travel hacking tips you need.
Use Apps to Track Spending and Rewards: Using the aforementioned apps will make your travel hacking so much easier, be sure to use them from the beginning.
Spread Out Your Card Applications: You can't open an account, earn the bonus, close the account and reapply straight away and earn another bonus. Most cards limit you to earning a bonus every 18-24 months.
Know When to and When Not to Close Your Credit Card Accounts: Credit card companies frown on "churning" credit cards; opening and then closing the account a few months later. However, it makes no sense to pay an annual fee on a credit card you're not using or which doesn't provide you with travel benefits that you are using. A good suggestion is to contact the credit card company when an annual fee is coming due, and see if they have any "retention" offers available, where they waive the fee as an incentive to not close the account or failing that, can they downgrade the card to a no-fee card?
Travel Hacking Mistakes
Don't think It's Too Good to Be True: About now, you might be wondering what is the catch? This all sounds too good to be true. There is no catch, the offers are valid and the rewards are real.
Missing Minimum Spending for the Bonus: The main reason for applying for a specific card is probably earning the bonus, don't miss out on that benefit. This doesn't mean you should run around spending like crazy but does mean perhaps don't apply for a card when you're in dire need of tightening your purse strings and in a cash crunch.
Timing: When travel hacking for a companion pass, timing can be everything. Pay strict attention to the earning criteria and the timing of your achieving the reward.
Frivolous Spending: Don't start spending money on things you wouldn't buy just to earn your bonus and likewise do not start credit card travel hacking if you can't pay your credit card balance in full every single month, with no exceptions, ever.
Ready to Take the Travel Hacking Plunge?
So what do you think are you ready to take the travel hacking plunge? I hope these travel hacking tips, myths, and facts have helped you decide if travel hacking is for you. Share with me and my readers your experiences in the comments section. I'll be sure to post when I have the Southwest Companion pass in hand!