Tips For A More Sustainable Holiday Season
Last Updated on April 10, 2023 by Carolyn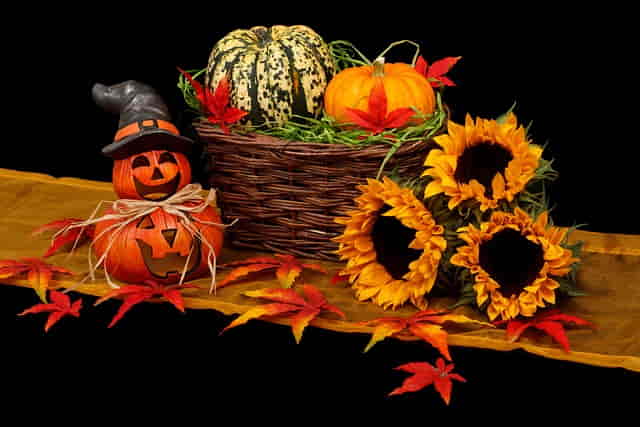 Note: This post may contain affiliate links. Full disclosure here. Investment advice published here is of a general nature only as disclosed here.
How to Have a More Sustainable Holiday Season
It's Fall again and what does Fall herald? The beginning of the holiday season. First, we have Halloween and then Thanksgiving followed shortly by Christmas (or Hanukkah and other celebrations). The holidays are wonderful but with them, comes a lot of excess and waste. This post is a collaborative effort between myself and Carly of My Green Toddler, that will help you have a more sustainable holiday season.
Halloween
Halloween is so much fun but can be so wasteful, all those wrappers destined for the trash, costumes used once and tossed and jack-o-lanterns enjoying a single day of glory and then set out with the trash can the following day. What can one do to make this a more sustainable holiday?
Let's start with the candy for the trick-or-treaters. Did you know that in West Africa especially on the ivory coast, 70% of the country's illegal deforestation is due to cocoa farming? And that the same candy we hand out to our children may have been harvested by child slaves? Mars, Nestle, Hershey, and Cargill are all named as defendants in a class action child slavery suit.
And then there are all the plastic wrappers. Most candy comes individually wrapped and then bagged in another plastic wrapper. All trash destined for the landfill or worse yet our streets.
Alternative treats that won't result in tricks:
There was once a time when one could make homemade goodies for the kids, things like candy apples, and rice crispy squares. Nowadays those treats are likely to be sorted into the trash pile by caring parents as you never know what weirdo might be out there that gets a kick out of hiding a razor blade in the apple or putting a drug in the squares. No, we need better alternatives than that.
Here is a list of sustainably sourced and/ or packaged candy and some other ideas for treats besides candy. Sadly, it's hard to find sustainably sourced and packaged candy, most of the organic products aren't sustainably packaged while the sustainably packaged products aren't sustainably sourced.
Another good source of sustainably or minimally packaged candy is your local bulk store. They should have an assortment of foil-wrapped candy and you can bring your own bag to avoid plastic packaging.
Costumes
I imagine most parents would love to have the time to create elaborate Halloween costumes for their children, but sadly many of us just don't have the time or wherewithal to do so. It's much easier just to go to Walmart and pick up a cheap costume.
There are better solutions than Walmart that are also cheaper. Anyone who has gone to a thrift store in October knows that there is a plethora of costumes in every shape and size available, and accessories galore at budget prices. Take your children to a thrift store for an hour or two and I'm sure they'll have a lot of fun trying on costumes and will find something they love.
Another good alternative is to rummage through your and your kid's closets and with a little creativity you'll surely come up with some great costume ideas and probably have a lot more fun putting them together than shopping at Walmart.
Pumpkins
Carving a pumpkin has always been an essential part of Halloween, but what do you do with that pumpkin after its night of glory? if you're like most people it's thrown out in the trash.
Did you know that many farm animals consider pumpkins a delicacy? Look for posts from local small farmers on or around Halloween, they'll be thrilled to take your pumpkins off of your hands, carved or un-carved.
If you can't find a nearby farmer to take your pumpkins, why not smash them and put them in the compost pile? I'm sure you'll find kids eager to help you in the pumpkin smashing.
Thanksgiving
Stop Wasting Food
After the witches and goblins have had their night of haunting, it's not long until Thanksgiving comes along. Thanksgiving is normally celebrated with an abundant Thanksgiving dinner but do you know how much food is wasted each year at Thanksgiving?
The Center for Biological Diversity breaks down Thanksgiving food waste as follows:
"200 million pounds of turkey thrown out alongside more than 150 million pounds of side dishes like veggies and potatoes and 14 million pounds of dinner rolls. "
That's mind-boggling, isn't it?
Carly of My Green Toddler has kindly shared with us some tips to help us minimize our contribution to food waste:
"Over-catering food during the holidays causes so much waste! Not to mention the risk of food poisoning when it can't all fit in the refrigerator. If everyone is bringing a dish to the family meal, consider asking some people to bring flowers, a centerpiece, or, drinks instead to avoid the excess.
Try to keep some food in the refrigerator rather than putting it all out on the table. Then if it doesn't get eaten, at least it will still be safe to eat as leftovers and not need to be thrown away."
And to add to Carly's great suggestions be sure to use non-disposable dinner-wear and fabric napkins, and instead of just sending your guest home with the leftovers of what they brought, send them home with a variety of leftovers so they can have a complete leftover meal rather than an overabundance of one side dish or dessert.
Christmas/Hanukkah
After Thanksgiving, it's time to decorate the house for Christmas or Hanukkah ( or whatever other holiday you celebrate)
Christmas Decor
Carly has brought us some great ideas for sustainable holiday decor.
"The most sustainable decorations are the ones you already have. So dust off your existing decorations and enjoy the memories from years gone by.
If more decorations are required, look to buy them secondhand. Not only will you find unique, quality decorations that have survived in someone else's home but you will be saving money and saving pre-loved decorations from landfill.
You can also make your holiday decorations. Check out Pinterest for inspiration on DIY salt dough ornaments, origami decorations, and crochet patterns.
Lastly, if you're looking to buy new sustainable Christmas decorations, opt for good-quality decorations that will last. Try to avoid plastic and go for wood, ceramic, or metal ornaments."
Gifts
'Tis the season of giving". But let's try to cut back on excess. I heard a great quote on a podcast I was listening to the other day:
"If you don't know someone well enough to give a meaningful gift, you don't need to give them a gift at all. If you can't pick a gift that really speaks to you for someone, don't feel obligated to buy them a gift."
Here are some suggestions for gifts from Carly:
"If you can't ask someone what they want, consider a consumable gift. A consumable gift is something that will be used up and recipients may feel grateful that they don't need to find room for more stuff. Think vouchers, experiences, event tickets, zoo memberships, audiobooks, or a cooking class."
It can be easy to get carried away with giving gifts during the holidays. The best way to avoid unwanted, wasteful gifts is to ask the person what they want. It's better to buy a plastic toy that a child wants and will actually play with than a wooden toy they don't want which will languish in a thrift shop or landfill.
If you are wanting to give small gifts to many acquaintances like classmates, colleagues, or neighbors, an edible Christmas gift is something thoughtful and fun to make. Think cookies, candied nuts, and preserves.
Another suggestion is don't be afraid to re-gift. If someone gives you a bottle of wine and you don't drink wine but know someone who does, put that bottle in a reusable gift bag and give it to someone who will enjoy it rather than put it in your cupboard to collect dust on the offhand chance that you'll serve it someday.
And it is Okay to give used items as gifts. If it will bring pleasure to the recipient it's a nice gift regardless if it was bought new or used. So peruse the aisles of thrift stores or shop Poshmark for that perfect item at an affordable price.
There are all sorts of great sustainable gift ideas out there, here's a list of 11 green gift ideas for less than $35.00.
Gift Wrapping
There are so many options for sustainable gift-wrapping options.
Carly says "Avoid the shiny, glittery wrapping paper and go for sustainable gift wrapping instead. You can repurpose newspaper, brown paper packaging and fabric to wrap presents and dress them up with paper ribbon, twine and gift tags. "
I have used snippets of branches off of the Christmas tree to adorn gifts as well as making paper bows to add a festive touch to the package. I often use recycled gift bags at Christmas and also have some fabric "Santa Sacks" that come out each year. Unused Christmas tree decorations can make great adornments to plain paper packages.
Christmas Trees
If you've opted for a live tree, again the farm animals would love to help you dispose of it in a sustainable manner. Just be sure to know that the tree hasn't been treated with any chemicals before taking it to the farm for animal consumption (if you cut your own in a National forest it shouldn't be treated.)
Will Your Make YourHoliday Season More Sustainable?
Hopefully, this post has given you a few ideas to help make your holiday season more sustainable. Remember you don't have to do everything to make a difference. Each small step we make adds up to make a huge impact on our world.
Please share this pin if you liked this post!