Costa Rica Itinerary Day 8 – Manuel Antonio – Quepos
Last Updated on January 2, 2023 by Carolyn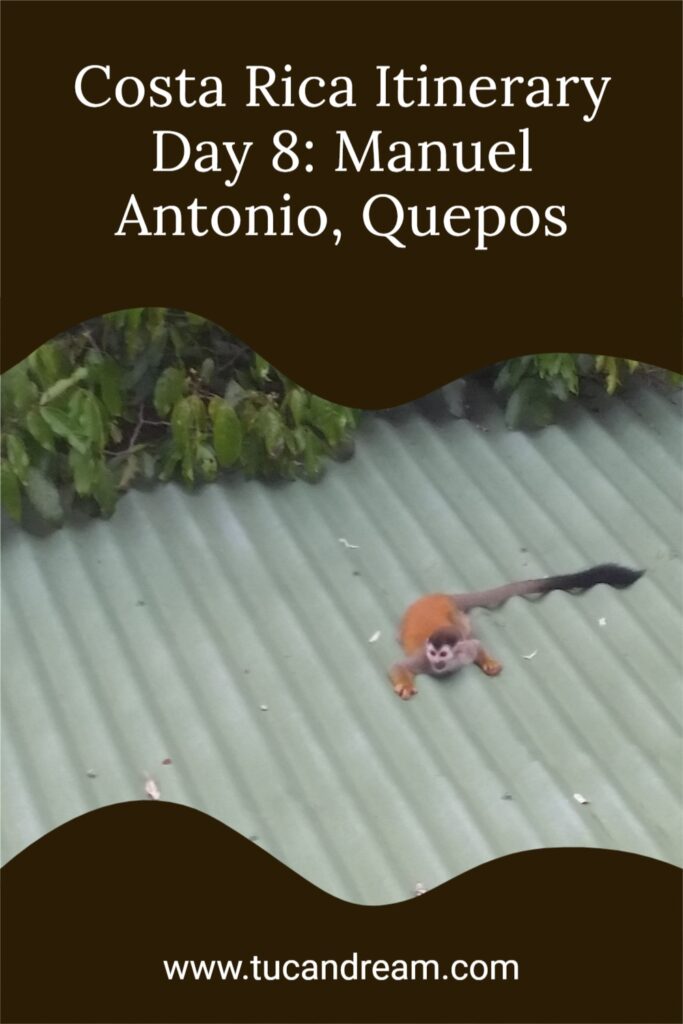 Where to Now? Uvita? Manuel Antonio? Parrita?
Osa Mountain Village was our last "planned" stop of our 17-day itinerary, so we had some decisions to make on our last night in Osa. We wanted to drive up the Pacific coast and see the coastal town of Uvita and perhaps explore Dominical and beyond to Manuel Antonio, but after that, we had a clean slate, with no further destinations planned. I tried to arrange some property viewings with some realtors in the Uvita area but apparently, they were on "Pura Vida" time and I wasn't able to make any appointments prior to our Osa departure.
Not totally put off by our first eco-village experience, I was also interested in visiting another eco-village called St. Michaels located in Parrita. Perhaps this one would be what we're hoping to find at Osa Mountain Village? I found there were a couple of Airbnbs within St. Michaels so I tried to book one for that night but alas had no replies to my inquiries, so that idea was thwarted.
Driving North along the Costanera Highway
We left Osa Mountain Village and headed north along the Costanera Highway. We had one more property that we had earmarked before our visit to Costa Rica but it was located all the way on the Nicoya peninsula near the town of Carmona. With nothing else on our agenda, we decided to head that way and would stop for the night at an interesting place along the way. We hit Uvita around lunchtime and had lunch at Pizza Express. Since it was still pretty early we decided perhaps Quepos and Manuel Antonio would be our destination for the day.
The drive north along the Costanera brought us back through Dominical and then Parrita. Along the way, we passed through miles and miles of palm plantations lining both sides of the highway. It was sad to see so much of the land being denatured for the sake of palm oil.
Quepos
We arrived in Quepos which was rather congested with narrow roads and a lot of traffic, our first impression was a city of drab commercial buildings. We drove directly through the bustling city towards the ocean. We'd planned to head to an Airbnb just past the marina but when we got there the road was closed for construction so we changed our plans again and turned around to head to Manuel Antonio.
Manuel Antonio
The road to Manuel Antonio leads you up a large hill overlooking the bay and it was a breath of fresh air to get out of the bustling congestion of Quepos. While Wally was driving, I was scanning Booking.com for a room for the night as we didn't want to be stuck after dark without a room. I found Casa Linda which looked like it would serve our needs and was cheap at only $40 a night so I booked it.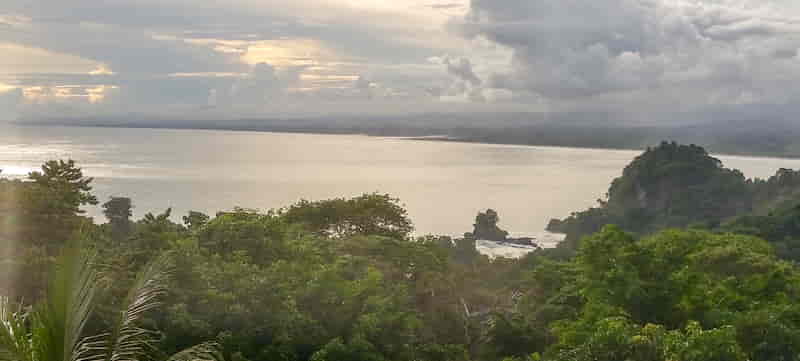 Casa Linda is a small hotel with a handful of rooms located on the main road that runs through Manuel Antonio. It is run by an American expat Dan and his wife. He showed us to our room and graciously found us a coffee maker when I asked about the availability of coffee in the morning. The property had nice gardens and we were told that monkeys hung out in the trees below and that macaws and toucans could be readily seen. Our room was simple but clean. We were located roadside so I was worried about traffic noise but a room fan drowned the noise out fairly well. We had yet another suicide shower for warm water but alas this one wasn't working.
Why Manuel Antonio is so Popular
Most visitors to Manuel Antonio have Manuel Antonio National Park at the top of their list of things to see and do. Manuel Antonio National Park is the smallest of all the Costa Rican National Parks but that doesn't stop it from being world famous and the most popular of Costa Rica's national parks. As many as 150,000 people visit it annually. Why is it so popular? The biodiversity contained within its boundaries is incredible; 109 species of mammals and 184 species of birds call Manuel Antonio Park Home. Hire a guide and you'll likely see sloths as well as a plethora of other Costa Rican creatures during your visit to the park.
The park also features a beautiful beach that doesn't have a huge surf making it attractive as a swimming and snorkeling beach . It also has several not-too strenuous hiking trails where visitors can view wildlife and take in some stupendous views.
Outside of the park Manuel Antionio also has several beautiful beaches, hot springs, a zipcoaster that is a deal at only $12.00 per person and Villa Vanilla Spice Farm where visitors can take a guided tour and see how Vanilla is grown and sample products made from Vanilla. At Manuel Antonio beach you can experience parasailing,take a surf lesson or go ocean kayaking.
Not too far from Manuel Antonio, you can enjoy zip-lining, white-water rafting, and waterfall tours, and in Quepos you can set sail and try your hand at sports fishing or go on a whale-watching tour if you visit between August and October.
Exploring Manuel Antonio on Foot
Casa Linda was within walking distance of the beach so since it was only about 4 o'clock we set out on foot to explore Manuel Antonio. The walk down to the beach was quite enjoyable only being about 2 km, and almost all downhill (and a fairly steep hill at that). On our way down to the beach, we were thrilled to see a troop of squirrel monkeys playing on a metal rooftop. We paused to watch them "making music" on the roof as they swung from the trees and landed and scampered over the corrugated metal each appearing to try to outdo the other.
As we continued our walk to the beach we passed the Anacando Cafe a restaurant with covered dining and lush gardens that had spectacular views of Manuel Antonio bay. Being a breakfast and lunch cafe, it was closed for the day so we made plans to return the next morning for an indulgent breakfast.
Espadilla Beach
Manuel Antonio boasts some of the most beautiful beaches in Costa Rica and we weren't disappointed. Espadilla beach stretches along the shores of Manuel Antonio for over a mile with its beautiful white sand and a palm jungle border to provide shade from the hot afternoon sun. The southern end of Espadilla beach is within the boundaries of Parque Nacional de Manuel Antonio but the northern end is open to the public and is free. We enjoyed sticking our toes in the water and walking along the beach, and decided to see if we could stay another night at the hotel, so we could enjoy a beach day.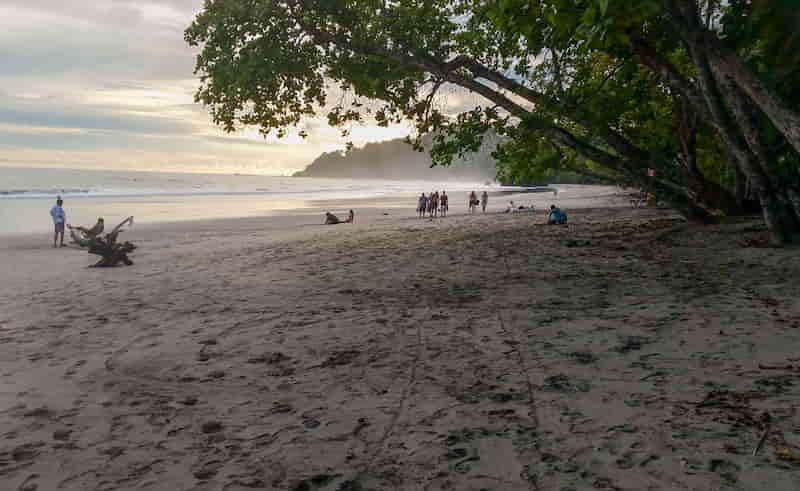 The walk back wasn't quite as easy after all I did mention the walk to the beach was all downhill so of course the walk back was all uphill. We came upon a couple of distressed girls with a broken down car, apparently, the car's battery was dead. Like many of the rental cars in Costa Rica the car was a stick shift, so being on a hill, Wally explained how to jump-start a stick shift car. With trepidation, they agreed to give it a try, we gave them a push and the car's engine purred to life and they were on their way, waving their thanks to us.
It was pretty near dinner time and we were tempted by El Avion another airplane restaurant but since it serves mainly seafood and Wally is a vegetarian, we passed it by (had I known what beautiful views they have I might not have passed it by!) We had quite a bit of food that needed using up including avocados picked from the awesome tree at Osa mountain village, so we just stopped at a local Mercado (corner store) and purchased some refreshments, opting to eat in for the night.
Let's Stay Another Day
We were quite enjoying our time in Manuel Antonio so we asked Dan if we could stay another night. The room was available so that clinched the deal, and we made plans for the next day. Our agenda included having breakfast at the Anaconda Cafe and then to actually spend some time in the ocean. You might wonder why we didn't put a visit to the National Park on our Agenda, sadly for us the park is closed on Tuesdays.
This was the first time I'd really stayed in a town where you could walk to everything and I have to admit, it really changed my outlook on city life. What was so nice was here we were in a beautiful garden with flowers and wildlife all around yet just a stone's throw from all sorts of activities. I really found it quite appealing.
Just Joining the Trip?
If you've just joined us on the trip you might want to go back to the beginning of our 17 day Costa Rica Itinerary You'll find this itinerary a bit unique as we were visiting Costa Rica not just as tourist but with the intent to purchase property and become residents. This itinerary will take you around Costa Rica and give you an insiders looks at real estate and cities in Costa Rica.