Costa Rica Itinerary Day 9: Is Manuel Antonio Worth Visiting?
Last Updated on April 9, 2023 by Carolyn
Is Manuel Antonio Worth Visiting? Absolutely!
If you've read our prior day post, you'll know it was originally our plan to just stop in Manuel Antonio for a night on our way to the Nicoya Peninsula. We were so taken with the town that we opted to stay an extra night.
Manuel Antonio Now and Then
Though I'm not a real history buff, I do like to know a bit about the history of the towns I visit. It's nice to know what makes each place tick and to understand how various events over the years have impacted residents and each town's evolution, shaping them to what they now are.
Manuel Antonio's natural beauty attracted settlers as early as 900 AD when the Quepoa tribe from Colombia settled the land. In the early 1500s, the first Spanish explorers arrived and made alliances with the Quepoa people. Over time the Quepoa fell victim to new world diseases, warfare, and slavery and mostly died out. British pirates heard about the area's wealth of gold and plumaged the area through the 1600s. It's rumored that a huge treasure was lost and may still lie within the boundaries of Manuel Antonio Park.
The first industry that the area became known for is banana exportation. When diseases reduced banana exports, palm trees were planted for palm oil. Today you will still see vast palm plantations as you drive the Costanera highway to and from Quepos.
Manuel Antonio now has a population of approximately 21,000 persons. Of course, this population swells probably doubling if not tripling during tourist season, with an estimated 150,000 people visiting the city each year. When we visited it was low season so not busy but during peak holiday season be aware that the main thoroughfare becomes quite congested. I'm glad we visited in off-season, I'm not so sure I would have been able to appreciate the town if it were full of people.
Here's how we spent our 2nd day in Manuel Antonio.
Manuel Antonio Morning
On Tuesday, our 9th day in Costa Rica we woke up to cloudy skies but no rain. We brewed a nice pot of Costa Rican coffee in the coffee maker Dan, the hotel manager had kindly brought to our room. We sat outside enjoying the brew and the sounds of a Costa Rican morning, birds chirping, rustling leaves as the wind blew through the palms, the sounds of the resident iguana on the rooftop, and the groaning of an occasional delivery truck lumbering up the hill.
The morning scents were lush- the sweet fragrance of the many garden blooms wafted up to our second-story room. Hummingbirds and butterflies flitted from flower to flower. I could feel any stress within melting away. I believe it's called Pura Vida.
Breakfast at the Anaconda Cafe
We leisurely made our way to Anaconda Cafe for breakfast or "deyasuno" as breakfast is called in Spanish. Being off-season we pretty much had our choice of tables so of course, chose one with a lovely view of the bay. I can't recall ever eating breakfast with such a lovely view.

Breakfast was very tasty with generous portions. Pictured is my "Deyasuno Tipico" consisting of eggs, gallo pinto, plantains, and natilla, and tortillas to scoop up the deliciousness.
After breakfast, we went back to our room to change into beach attire and ditch our wallets and valuables in preparation for an afternoon at the beach. We'd been warned about petty crime at the beaches so there was no sense taking things like phones and passports with us, why tempt fate? We just took the room key which Wally put into a pocket with a zipper. We chose to walk to the beach so we could experience more sights and sounds of the town.
Beach Time
I wasn't very used to swimming in real surf so didn't venture too far into the waves mainly playing in the shallows. Eventually, I got a little braver and ventured a little deeper to join Wally in the bigger surf. I enjoyed body surfing for a while and then "wham" I was hit by a big wave that knocked me over and sent me for a spin. I recovered my footing and spat out seawater and beat a hasty retreat to the beach. It was then that I realized I couldn't see very well; I had foolishly worn my prescription sunglasses into the water and the wave that had jostled me had claimed its bounty-my glasses. We looked for them for a while but gave up, score one for the ocean that day.
If you're planning on spending any time at the beach and wear eyeglasses or even sunglasses, do yourself a favor and invest in eyeglass bands that will keep you from suffering the same fate as I did that day. I later bought these eyeglass bands, they are cheap and work well:
Birder's Paradise
We spent the rest of the afternoon walking along the beach and then around town. Upon our return to our hotel we were thrilled to see a Toucan perched on a cell phone tower. While we were watching him, Scarlet Macaws came flying in above us to roost high up on the adjacent vacant building's balconies. Dan, had told us this was a favorite roost of theirs and they didn't disappoint. It was quite a thrill for this bird lover to see these majestic birds in flight and then watch them settling in for the night, jostling amongst themselves for the best position on the balcony railing.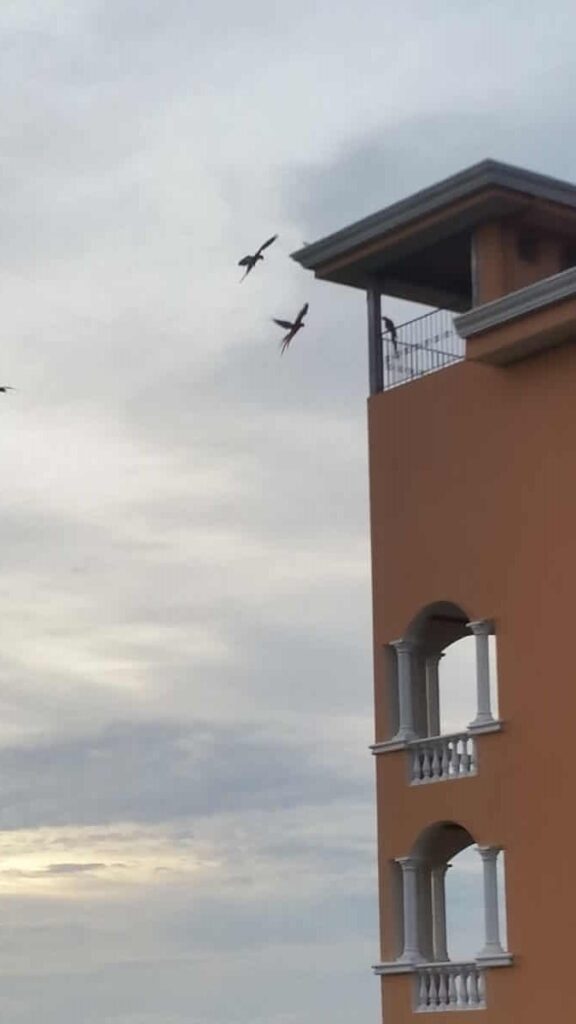 It was at this point on the trip that I decided I needed to buy a better camera for capturing wildlife shots. I had with me a little Sony digital camera, but the 15x zoom didn't cut it for capturing the magnificent but somewhat shy wildlife of Costa Rica. The monocular telescope I had purchased for wildlife viewing worked well for viewing, but taking pictures with the cell phone attachment it came with was awkward. I wasn't able to capture the sheer beauty of the birds with crisp detail. (See the notes at the end of this post for what I bought and recommend)
Planning the Rest of our Costa Rican Adventure
We spent the rest of the afternoon relaxing in the garden and making plans for the balance of our trip. We would have liked to look at some real estate around Manuel Antonio since we liked it so much, but there just didn't seem to be much on the market in the area that suited us, and what was for sale was out of our budget. So we decided that the next day we'd continue on to the Nicoya peninsula and the town of "Carmona" and would make arrangements to see the property that had lured us to visit the Nicoya Peninsula.
There are several ways to get to the Nicoya Peninsula from Manuel Antonio. If you don't have a car, the easiest way across is via a water taxi to the town of Montezuma. If you have a car most people choose to take the approximately hour-and-a-half ride across the gulf on the "Naviera Tambor" ferry from Puntarenas to either the town of Naranjo or Paquera. The last option is to drive around the top of the Nicoya Gulf. We opted for the latter as we had come to explore the country. We were warned that the roads in the peninsula are some of the worst in the country, but that didn't deter us.
Our dinner that night was falafels from "Manuel Antonio Falafel Bar" conveniently located across the street. They were a nice change from the simple fare we'd been eating this far on the trip and not expensive.
Is Manuel Antonio on your Itinerary?
We really believe Manuel Antonio is well worth visiting. It's easy to get to and offers so much. The only caveat would be to perhaps visit off-season to make your visit that much more enjoyable.
Notes on Choosing a Wildlife Camera
As mentioned above I was thrilled to see the beautiful birds of Costa Rica, but very unhappy with either my phone's or pocket camera's ability to capture photos of them. Upon my return home I researched birding cameras and settled on a Panasonic Lumix FZ80 with 60X zoom. I found it on sale on Amazon for just $175! I don't know if deals like that come by often but I snapped it up!