This Costa Rican adventure needs a plan
Last Updated on March 19, 2022 by Carolyn
With tickets in hand we now needed to make a plan for our Costa Rican adventure. Though Costa Rica isn't a large country (it only encompasses 19,370 square miles) it is very diverse with many different climates and wildly different terrain. In a trip of just seventeen days we wanted to see as much as we could without spending all of our days in a car.
Part of my due diligence was doing some reading. I was especially interested in reading about expats who had moved to the country, and their experiences. This is when I read Nadine Pisani's account of selling all and moving to Costa Rica, "Happier than a Billionaire".   It's totally unfathomable for me to even think of such an upheaval of a move, and without even going to the country first? Madness! But nevertheless this is an extremely enjoyable read, very down to earth and entertaining.  If you plan on visiting Costa Rica it is a must read!  And if you enjoy the first book in the series, there is a sequel: Happier than a Billionaire: The Sequel.  The best part of these books is the "Ah ha" moments when you're travelling through Costa Rica and you remember Nadine writing about the exact same scenario and you chuckle to yourself as you live it yourself.  Definitely read these books before the trip.
Narrowing down an itinerary that would fit in 17 days was tough but doable.  Browsing the craigslist ads we'd narrowed down some places we really wanted to visit.  Many expats live in the Grecia and Athenas areas but we felt those areas were too crowded for our liking as well as too far from the beach so we axed those off of the reconnaissance mission.  We were very curious about the Perez Zeledon area since it is at a higher altitude, so not as as hot as the Guanacaste beach area but with most areas still within an hour of the beach.  Then we planned a trip down to the Osa Peninsula and then would drive up the Pacific coast and hopefully get to the Guanacaste area.I had major concerns about climate, even though I wasn't sure I was going to be a permanent character in this charade.  I despise humidity, and forewarned Wally that humidity does not bring out the best in my personality.  And then looking at the forecast for June, wow…rain, more rain, and did I mention, rain?  Here is a typical forecast for June in Costa Rica: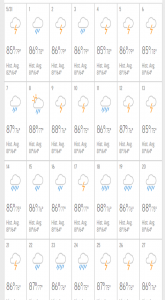 Our planned itinerary did leave out the Caribbean coast, and most of the central valley. We didn't feel we could incorporate tall that area into our 17 days without feeling like we were running around like chickens with our heads chopped off. I believe Wally had trepidations about hurricanes on the Caribbean side of the country. Though hurricanes don't actually hit Costa Rica the east side of the country does feel their effects, which can result in additional rainfall. And after seeing the above forecast, I'd say we were more than a little worried about the rain.
Our itinerary was as follows:
June 04, Day 1: Arrive in Alajuela, rent car and drive to Tres de Junio. Stay in "Cloud Cabin" Airbnb.
June 05, Day 2: Drive to Tinamaste via route 2. Stop at Paque Nacional Los Questzales
June 06-7, Day 3: See Dominical, Platanillo and Tinamaste area properties
June 08, Day 4: Go to San Isidro and stop at farmers market. Then drive to Osa Mountain Village
June 09, Day 5: See Palma Sur, Sierpe,
June 10, Day 6: Drive up Pacific coast to ?

We left the rest of our itinerary open as we really didn't know if we'd want to explore more, if we'd fall in love with something in the first week. Our tentative plan was to head up the Pacific Coast perhaps right up to Playa Coco?
Despite the gloomy forecast, we booked a rental car, and accommodations for our first week, and all that was left was to eagerly await our June 4th departure date, whilst reading everything we could about Costa Rica